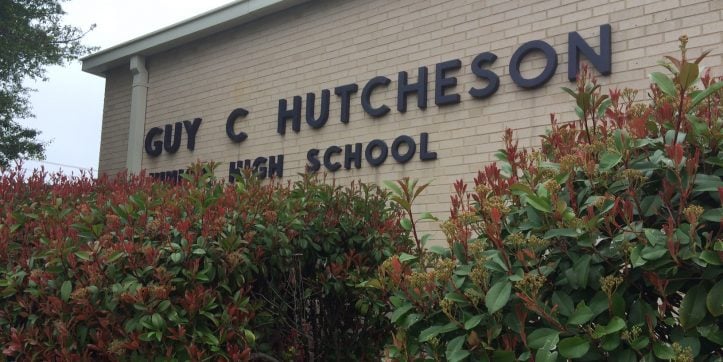 Hutcheson and Ferguson Junior High Schools will both close at the end of this school year, but preparations for their consolidation with Workman and Ousley Junior Highs respectively have already begun.
A comprehensive districtwide facilities assessment, conducted by Jacobs Engineering Group in 2013, revealed that the Arlington Independent School District has overcapacity in terms of facilities at the junior high level. Specifically, the AISD has two more junior high schools than it needs. After considering a number of factors, the difficult decision was made to close Hutcheson and Ferguson.
The Hutcheson building, originally opened as Sam Houston High School in 1963, will be torn down to make way for a new districtwide Career and Technical Education Center. Hutcheson's students will consolidate with and at Workman Junior High.
Unlike Hutcheson, the Ferguson building is fairly young and in great shape. But Ousley Junior High, just 1.6 miles from Ferguson, is bigger, under capacity, and ready and able to take in Ferguson's students. In fact, Ousley's building is nearly identical to Ferguson's, only larger. The Ferguson building, to be renamed Ferguson Education Center, will become the home of Newcomer Center and Venture High School.
For both Hutcheson and Ferguson, the process of closing and moving all of its teachers, staff and students is emotional and challenging. It is a big job that cannot wait until school gets out in June. At Hutcheson and Workman, and at Ferguson and Ousley, the process has already begun, led by principals Ms. Inelda Acosta and Mrs. Lora Thurston.
Below is a look at what is currently going on at the schools. Then next month, the June Bond Newsletter will include articles that celebrate the legacy of Hutcheson and Ferguson Junior Highs.
Hutcheson/Workman Junior High
Hutcheson Junior High, opened in 1970, has served thousands of students and multiple Arlington generations. It holds a special place in the hearts of many. Closing and then consolidating with Workman will be emotional and a lot of work.
But Inelda Acosta is up for the task. A teacher and administrator in the AISD for many years, she was named the principal of Hutheson Junior High in May 2014 and then also Workman in December 2014. She recognizes the challenge of bringing two schools together and understands it will be difficult for many students and teachers to say goodbye to Hutcheson. But she is motivated by the opportunity to build something special. "In the end, this school is going to be an environment where students can be successful," she said. "I'm having the time of my life…Being in a position where I can inspire others is very attractive to me."
In this last school year at Hutcheson, Acosta's goal has been to keep the focus on instruction and the students. She wants the teachers and students to have as normal a school year as possible, and let the administration worry about the details of moving.
But no one can ignore what is coming next year and everyone has already started the process of consolidation. Teachers have begun packing boxes and are sifting through materials to determine what really needs to move to Workman. A classroom has been set aside for salvage, for materials like old encyclopedias that won't be needed at Workman, and books in the library are getting boxed up. In addition, the school administration has sought to align the two schools' policies to ease the transition next year and help students know what to expect. And Acosta has held parent coffee meetings at each school to help keep parents informed about what is going on.
To prepare for the addition of Hutcheson students and teachers, Workman is also undergoing a lot of changes. Originally built as Bowie High School, the Workman building is large. However, with the student population about to grow to about 1,400, it will still need additional space. To make room, Newcomer Center, which is currently housed in Workman, will move to what is presently Ferguson Junior High. Newcomer Center, which helps immigrant students learn English and transition to their home campuses, will share the Ferguson Education Center with Venture High School.
Even with the departure of Newcomer Center, Workman will still need more space. A new wing of 16 classrooms will be added, along with an expanded cafeteria. While portable classrooms will be necessary during the construction process, they will all be removed once the addition is complete. Construction will begin after school gets out in June, with the cafeteria ready by August 2015 and the new classrooms by August 2016.
Along with the classroom addition, which will face Arbrook Boulevard, a new distinctive entrance will be constructed at what is currently considered the back of the building. The new entrance will greatly improve the school's curb appeal and make the building more inviting. It will be ready to welcome students when they start school in August 2016.
Other improvements include a new security vestibule at the front, a small expansion and renovation of administration space and life cycle improvements to ensure the building, built in 1983, is in good shape to promote a safe learning environment for years to come.
But it's not just the building that will undergo major changes in the next couple years. The new consolidated Workman will also transition into an International Baccalaureate campus, offering the IB Middle Years Program. MYP is a curriculum that promotes "the fundamental concepts of intercultural understanding, communication and holistic learning." (Read more at www.ibo.org). The IB MYP will have a dramatic impact on programming, staffing and even scheduling. In addition to IB classes, Acosta is intent on offering strong, relevant programs like Gift and Talented and ELL (English Language Learners), among others. "I understand access to program is key to their success," she said. And after surveying students about classes they would like to take, she plans to add Spanish, French and additional technology courses.
While the opportunities for the consolidated Workman are exciting, and though the new Career and Technical Center to be built on the site of Hutcheson will offer a host of new resources to AISD students, it will still be difficult to say goodbye to Hutcheson. Shelley Bulin, Hutcheson's longest-serving current teacher with 28 years, echoed the sentiment of many when she called the school "my second home."
The AISD intends to preserve the legacy of the school and save Hutcheson memorabilia, including two mosaics at the school entrance made by students, one in 1976 commemorating the U.S. bicentennial, and one made by 7th graders in 1986 to commemorate the Texas sesquicentennial. An event on May 18 celebrated and honored the legacy of the school and its namesake, Guy C. Hutcheson.
Ferguson/Ousley Junior High
Ferguson Junior High, now in the last few weeks of its final year, opened in 2001 in its current location and has enjoyed a short but extremely successful history. Next year Ferguson's students will move to and consolidate with nearby Ousley Junior High, helping to eliminate unnecessary facility capacity at the junior high level in the AISD and allowing the building to house two of AISD's alternative schools, Newcomer Center and Venture High School.
Implementing all these changes require a lot of planning and a lot of work. Lora Thurston, Ousley's principal, was also named Ferguson's principal this school year and tasked with leading the consolidation. She is well aware of the outstanding work Ferguson teachers have done through the years and wants to make the consolidation as smooth as possible. Her goal is to help teachers and students feel comfortable with the changes and to manage as much of the transition as she can – like ordering boxes for the move – so the teachers can focus on teaching.
Nevertheless, with the school year winding down, everyone has to look ahead and get ready for the move. Thurston instituted three phases for the faculty to prepare. Phase 1: "the clean and lean mode," which is for both schools and includes cleaning and salvaging what isn't needed. Phase 2 started the packing: pack things that won't be needed after the move and can be sent to storage. And Phase 3: pack all the things that need to move to Ousley.
But the main concern for the teachers and administrators is their students. However, Thurston believes the Ferguson students are handling it well. "I walk though the halls and they stop and ask me about so and so at Ousley." Since the two schools are so close, many of the students already know each other. They come from the same neighborhoods and have often played sports or done other activities together.
The move is actually harder for the teachers than the students, as many have worked at the school for years. Ferguson's teachers are rightly very proud of their school, their students and their many accomplishments. Assistant Principal Steve Dunn, who Thurston described as "the rock" of Ferguson, raved about the teachers. "It's a wonderful group of people that have worked here," he said. "We've all worked hard and had that family atmosphere. The reason our school looks as good as it does is because our teachers take pride and the custodial staff has done a fabulous job." He proudly pointed out that five Ferguson teachers have won teacher of the year awards.
Closing Ferguson will certainly be hard, but the opportunities for the consolidated Ousley are impossible to ignore. Thurston explained that both schools are very talented academically – with excellent teachers – and athletically. She is excited to combine and capitalize on the strengths of each. "This is going to be a dream campus," she said. "This is going to be a very successful large campus."
Thurston has been promoting unity between the two schools since she became principal for both. She proudly wears a T-shirt that says Ferguson on one side and Ousley on the other. Throughout the year the two schools have worked together with joint trainings among departments and joint student activities, like the Cultural Festival, AVID and National Honor Society inductions, and a dance for rising 7th graders. Once the summer begins, camps, summer school and orientation will bring the formerly separate student bodies together as well. And in August, Ousley will begin the new school year with "One" as its theme.
One thing that will ease the transition is the fact that Ousley and Ferguson are identical in many ways. The building and hallways look almost the same. The difference is size. Ousley was built to accommodate 1,300 students, but currently has about 500. Ferguson also has about 500 students, so the consolidated school will naturally fit into the Ousley building.
Feguson Junior High will celebrate its proud history with a final orchestra concert on May 26 at 7 p.m. To accommodate a large audience, the special performance will be held at Bowie High School. The concert, directed by orchestra teacher Mary Cliborn, who has worked at the school since it opened, will include alumni orchestra players and a piece, "Titans Last Stand," composed in honor of the school by Ferguson alumnus Victor Musasia.