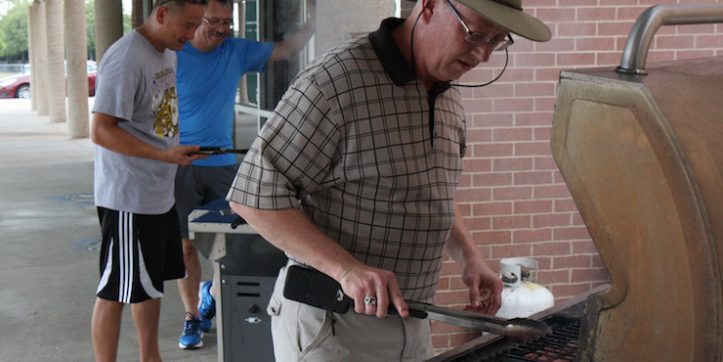 Ousley Junior High held a faculty family night Aug. 11 to help kick off the new school year. The staff has grown considerably this year with the consolidation of Ferguson Junior High and Ousley on the Ousley campus. The evening, which included a cookout, gave the teachers a chance to meet each other and introduce their families.
The consolidation of the two junior high schools is a piece of the 2014 Bond package. Ferguson Junior High closed at the conclusion of last school year and its building – now called Ferguson Education Center – has become home to two of the AISD's alternative schools, Newcomer Center and Venture High School.
The evening also included a spirited faculty parking auction called, "Are you down with the OPP (Ousley Premium Parking)." Teachers got the chance to bid on and buy permanent parking spots and will get to paint the spot they purchased. The auction raised $700 to help pay for future faculty events.
Ousley has been under construction all summer, getting the building ready to accommodate the consolidated student population. (See photos of the construction.) Read more about the bond-funded construction in the upcoming August bond newsletter. (Sign up for the bond newsletter.) Many of the teachers added to the construction this summer, painting their classrooms, which they showed off at the faculty night.