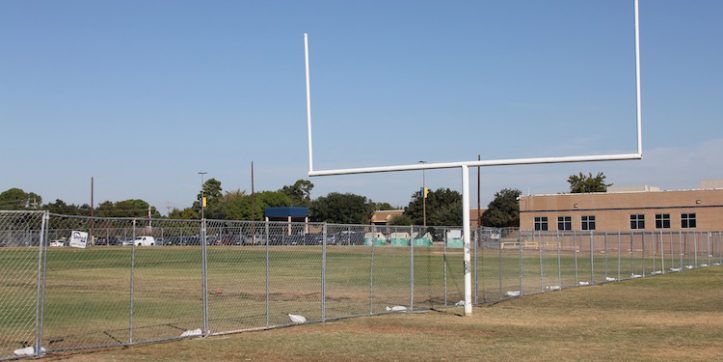 Oct. 19, 2015 - If you have been by Arlington High School in the last few days, you may have noticed some new chain link fences. The fencing is actually going up at all six of the AISD's high schools to block off what are about to be construction zones. Funded by the 2014 Bond package, each high school will get a new multi-purpose activity center (MAC).
[Learn more about the
MACs
and
subscribe
to the bond newsletter for an upcoming article about the MACs.]
At Arlington High School, like all the high schools, the on-campus construction will require some adjustments and shuffling. School faculty are dealing with the logistics of a host of issues, like parking, busing and athletic practices.
AHS head football coach Scott Peach understands the challenges the construction will pose, but he thinks it will all be worth it. "We must adjust from four practice fields for our outdoor sports to only two fields to make room for the new MAC center," Peach wrote. "As a coaching staff, we made the decision a year ago that we would take on the attitude of "Whatever It Takes!" We felt like this project is a once in a lifetime opportunity for our district and our school, and we certainly want to do our part to make it a reality. As a result, we will practice varsity and junior varsity football together on the main game field. Our band will use the main game field after football practice is complete in the afternoon. Our freshman football teams will work out on our one remaining practice field, while our other off-season sports will work mainly out of the weight room and use the practice and game fields when they are available. In the winter season, our soccer programs will practice our freshman athletes in the athletic class period while using the two remaining fields to share among the varsity and junior varsity teams after school. At the end of the day, we will make it work for our desired goal of gaining a state of the art complex for our student athletes."
Construction will start within the next couple weeks, continue into next summer and be ready for the 2016-2017 school year. The MACs were designed by Huckabee and are being built by Balfour Beatty Construction.
[
Photo is fencing at Lamar High School.
]