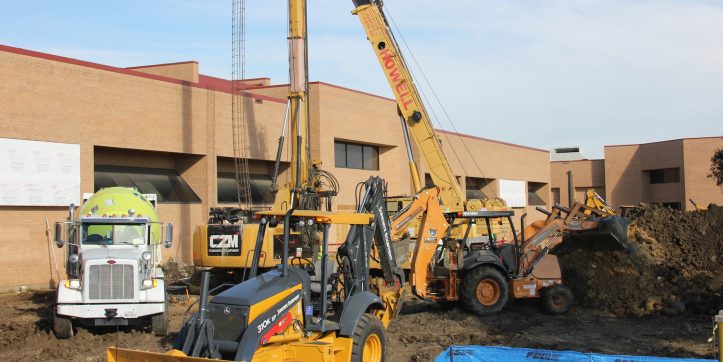 Nov. 11, 2015 - Construction of a 16-classroom addition at Workman Junior High, funded by the 2014 Bond package, is officially underway. Building permits from the city of Arlington were obtained on Oct. 28 and the drilling of piers began this morning. The school will also receive a new entrance, renovated administration space and life cycle upgrades.
[
See photos of the construction.
]
The addition, which faces Arbrook Boulevard, will help accommodate an expanded student enrollment, since Hutcheson Junior High closed at the end of last school year and its students moved to Workman. Until the addition can be completed, portable classrooms have been brought in. Construction will continue through the summer of 2016.
To accommodate the additional students, the cafeteria was also expanded over the summer, and the kitchen was upgraded with new equipment. Just outside the cafeteria, on either side of the library, the lockers were removed and the area is being converted into collaborative spaces – group learning areas with casual seating.
[
See photos of the cafeteria.
]
All construction at Workman is being managed by Pogue Construction, following plans designed by Brown Reynolds Watford Architects.