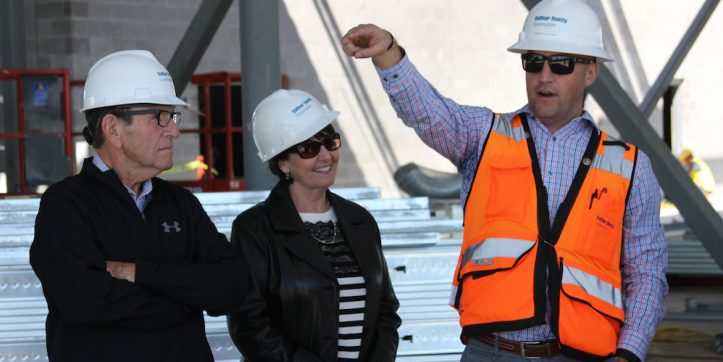 March 22, 2016 - Eddy and Debbie Peach visited and toured the construction site of the future elementary school that will bear their name yesterday. They were joined by the school's future principal, Stephanie Lee, AISD Superintendent Marcelo Cavazos and other AISD staff, and were guided by Balfour Beatty construction supervisors and architects from Perkins + Will.
The construction site is currently a busy place, with over 100 workers on site each day, six days a week. The 122,00 square foot building, which includes space for a Boys and Girls Club, is scheduled to open for the 2016-2017 school year.
Eddy and Debbie Peach are deserving namesakes, with a combined 81 years working in the Arlington ISD. Eddy worked in the AISD for 45 years, including 40 years as the Lamar High School head football coach. On Aug. 29, 2008, Eddy became the first head coach to win 300 games at the Class 5A level (current Class 6A level), and he retired with 310 wins. Debbie, who taught for 36 years in the AISD, was a teacher at Bailey Junior High (PE), Roquemore Elementary (PE), Shackelford Junior High (English) and Lamar High School (English). Debbie earned Teacher of the Year honors at the elementary, junior high and high school levels.