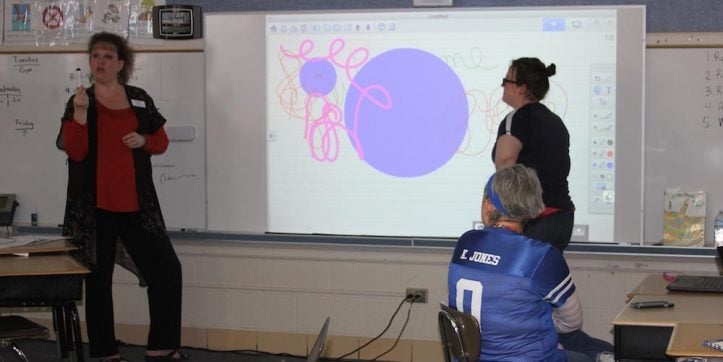 The AISD is introducing more technology into each classroom, funded by the 2014 Bond package. But simply providing teachers and students with additional technology hardware and wireless connectivity is not enough. If the teacher does not know how to use the technology or how to incorporate it into his or her teaching methods, the value and potential is lost.
[Read about the AISD's
new technology standards
and recent
work to improve wireless capability
.]
That's where the AISD instructional technology department comes in. Led by Director Barry Fox, the instructional technology department is comprised of outstanding educators, all former classroom teachers, who are true believers in the power of technology to enhance education. They are devoted to helping the AISD's teachers learn about and incorporate technology to innovate and improve classroom teaching and student learning.
It's not about technology for the sake of technology. Technology isn't the star, Fox explained. It's the supporting actor.
"We don't want to drive," he said. "We want to be the engine that powers."
Technology is a tool that can enhance and amplify the instruction and take learning to another level. As society becomes more and more driven by technology, the need for technology in school becomes more and more apparent. And the better we do at incorporating technology in the classroom, the better our students will be prepared for the real world.
To assist teachers with the technology they have been provided, the instructional technology department offers three primary methods of support: resources, training and professional learning.
The department provides resources on demand for teachers, with direct emails and resources posted on the department's website. These resources allow teachers to learn and get what they need at their own convenience, saving them time and letting them stay in the classroom. Emails cover a variety of important topics that are necessary for daily operations, like how to take attendance with the online attendance system. And the website contains a host of resources, including tutorials on a number of technology systems and topics. It also hosts a technology learning community where teachers can ask for help and discuss technology issues.
For more intensive programs and topics, the instructional technology department provides teacher trainings. Examples include topics like Gradebook, TEAMS, electronic report cards and GoogleDocs. These sessions are usually held after school or during conference periods and deal with the nuts and bolts of the programs, systems or hardware. Often they are orientations for how to use a specific technology tool, like interactive projectors. But they are never just about the tool or system. The instructional specialists always include an instructional spin, explained AISD Instructional Technology Specialist Deann Thompson, and discuss how the technology can be incorporated into instruction and learning.
Taking things a step further, the instructional technology department also offers professional learning opportunities for teachers. This is "how we can feed teachers philosophical knowledge for how to use technology in teaching," Fox said.
These sessions tackle normal teaching issues and topics, but introduce a technology component. Fox said an example is a session on formative assessment. All teachers do assessments, but there are technology tools, such as Cahoot, that will help teachers do it better.
"It's not about the tool, it's about the teaching and learning in the classroom," Fox said.
In addition to the resources, trainings and professional learning, the department also provides one-on-one coaching for teachers. Instructional technology specialists work with volunteer teachers known as the PIT (Partners in Technology) Crew and help them innovate with technology. The specialists will brainstorm, model, team teach or do whatever the teacher needs to help him or her incorporate technology as a teaching and learning tool. As these volunteers adopt new technology, they share what they've learned with others at their campuses.
Thanks to the dedicated specialists in the instructional technology department, the AISD is going to get the most out of the 2014 Bond investment in technology. We don't want to be satisfied with good results, said Susan Anderson, AISD instructional technology specialist.
"We want incredibly awesome results," she said.