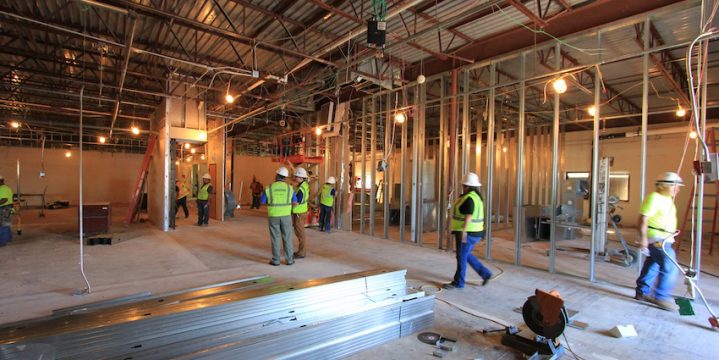 June 22, 2016 - They don't look much different from the outside, but you wouldn't recognize Corey or Jones Academy if you went in.
Both school buildings are receiving extensive renovations, funded by the 2014 Bond program, to enhance the fine arts and dual language programming the new academies offer. The renovations will provide state-of-the-art fine arts spaces like strings rooms, piano practice rooms, drama space and dance studios. In addition, adjustments will be made to ensure there are enough classrooms so that each class – or cohort – can spend half the day in an English classroom and half the day in a Spanish classroom.
At Corey, the work started back in the fall, but was limited to just a portion of the building. It focused on the music, dance and art rooms, many of which are almost complete.
Now that school is out, the entire building is a construction zone. A lot of demolition is being done as the building will be reconfigured to better suit the academy's programming. Depending on the area of the school, different tasks are underway, including demolition, plumbing rough-in, electrical rough-in, ductwork installation, wall framing and more. In the gym, painting is underway.
All the construction at Corey is scheduled to wrap up in time for the beginning of the 2016-2017 school year.
[
See Corey construction photos
.]
At Jones, the schedule is a little different. Construction just began this month and will be done in three phases, with total completion planned for the late spring in 2017. Phase one, currently underway, includes renovations in the admin area, cafeteria, gym and some classrooms. Structural improvements are also being made to improve and lengthen the life of the building, and exterior renovations will enhance the building's appearance.
Construction has also started on an outdoor performance area adjacent to the building. The first of its kind in the AISD, the amphitheater will provide additional performance opportunities for students attending the fine arts and dual language program and include the possibility for amplified sound. Fencing around the site is up and the subgrade dirt work is underway. Completion is scheduled for November.
[
See Jones construction photos
.]