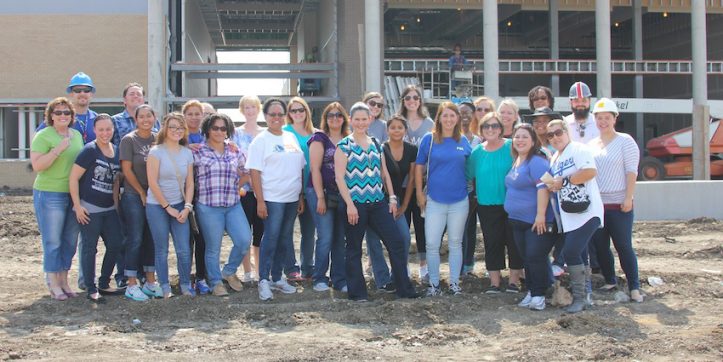 June 30, 2016 - McNutt Elementary teachers and staff visited their future school building this morning and toured the busy construction site, or as Principal Jackeline Orsini called it, "your new home."
The teachers were excited to see their future classrooms, snapping photos and posing for selfies.
The building's architects, Beverly Fornof and John Risi of Corgan, and the project superintendent, Andy Grimes of Balfour Beatty Construction, led the tour.
Grimes kicked it off by showing the group renderings of what the completed building will look like. He also assured everyone that McNutt will be ready to welcome students on August 22, the first day of school. The construction project suffered significant delays from lots of rain, but now the dry weather is helping construction crews catch up. The second floor of one portion of the building may still have some work left when school starts, but enough of the building will be complete to allow school to start on time.
For many of the new teachers, the visit was not only their first time to see the school building, but also the first time to meet each other. They also got to meet the school's namesake, Sandy McNutt, as she joined the tour as well.
See photos from the tour.