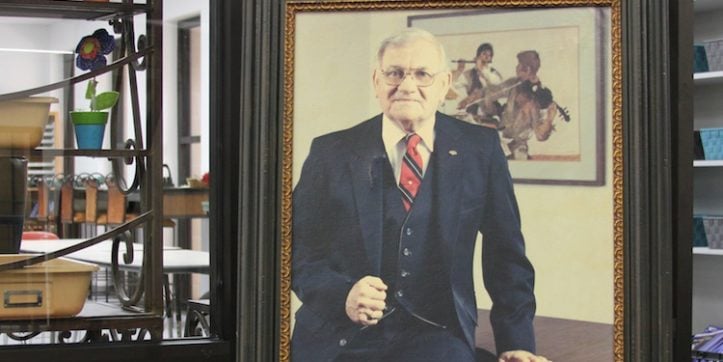 Corey Elementary, which was opened in 1985 and named after Dean P. Corey, became Corey Academy of Fine Arts and Dual Language in the 2015-2016 school year. Bond-funded renovations of the building - intended to ensure the facility augments the fine arts and dual language programming - were completed in the fall of 2016.
Dean Patterson Corey Jr. was born June 22, 1918, in Cincinnati, Ohio, and lived a life full of music. At just seven years old he attended a concert by John Philip Sousa and his band. At twelve, he started playing flute and then played flute and piccolo in his high school band. Later he studied flute at the Cincinnati Conservatory of Music and graduated from Transylvania University in 1940.
In 1941, Corey entered the U.S. Army and played in the 93rd Army Ground Forces Band until 1945. In 1943, he married Rebecca Ann Westmoreland. Together they would have two children and five grandchildren, all musicians. After the war, Corey got his first job as a high school band director at a school in Ohio.
Corey came to the AISD in 1949 to serve as the band director for Arlington High School. His marching bands were extremely successful, regularly winning UIL recognition. Known for its strong marching and football halftime shows, the Arlington band appeared in two nationally televised Dallas Cowboy halftime shows as well as two New Year's Day Cotton Bowl pregame and halftime shows. In 1964, the AHS Band toured Mexico, and on New Year's Day in 1967, the band performed in the Tournament of Roses Parade in Pasadena, California.
Corey remained at AHS until 1972 when he became the coordinator of music education for the AISD. In 1979, he instituted an orchestra program, which continues to flourish throughout the district. In 1980, after 31 years of service to the district, Corey retired, but his impact on music education in the AISD continued.
Each October since 1983, Arlington's high school marching bands perform at the Dean P. Corey Band Spectacular at UTA Maverick Stadium. The bands are critiqued by judges in preparation for upcoming UIL competition. Junior high bands also perform in the stands.
In 1985, the AISD honored Corey's legacy by naming a new elementary school after him. And in 2015, true to the legacy he left, Corey Elementary was transformed into a fine arts and dual language academy, enhancing the music education and experience all Corey students receive.