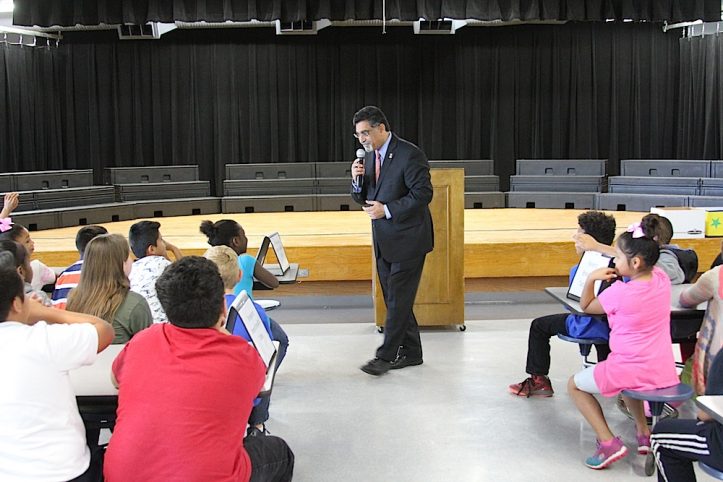 Oct. 18, 2016 - University of Texas at Arlington President Dr. Vistasp Karbhari visited Jones Academy of Fine Arts and Dual Language this morning to see the recent renovations and speak with students.
Three student leaders, along with Principal Katiuska Herrador, gave Karbhari a tour of the building, focusing on newly renovated spaces like the piano lab, dance room, gymnasium and English-speaking and Spanish-speaking classrooms.
Karbhari then addressed fifth and sixth grade students in the recently renovated cafetorium.
"I'm here because I had some great teachers," Karbhari said, encouraging the students to value and thank their own teachers at Jones.
He then encouraged the students to study hard now because it will pay off and provide opportunities in the future. He also spoke of the value of a college education and highlighted some of the many courses at UTA.
"Start focusing on your next step," he said.
"You can all be successful," Herrador added.
Jones Academy of Fine Arts and Dual Language is undergoing major renovations funded by the 2014 Bond Program.