Ebooks and Audio books Available from the AHS Library
You can check out and read books on your phone or device 24/7!
Checking out Ebooks and Audiobooks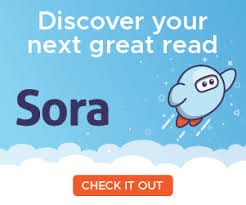 To log- in, follow the directions below:
Use your Rapid Identity login.
(First 5 letters of your last name and your ID number. ex: Jones123456) and your password.
Faculty and Staff:
Use your Rapid Identity login.
Getting started with Sora
With Sora, you can get free ebooks and audiobooks from your school.

Watch the getting-started video
Step 1
Install the Sora app from the Apple App Store or Google Play Store, or go to soraapp.com.
Step 2
In Sora, find your school (or enter your school's setup code), then sign in.
Note: If you need your sign-in information (like an ID, username, or password), talk to a teacher.
Step 3
Browse the 

 tab and borrow a book. Your book will open so you can start reading right away.
Step 4
Close the book and go to 

 to see all your books (including assignments). From there, you can:
Select Open book or Open audiobook to read or listen to the book.
Select Options to renew or return the book, see your notes and highlights, and more.
  **For computers or tablets, click on the link below to go to http://destiny.aisd.net
Choose "Arlington High School".
Then choose "Destiny Discover" on the left side.
Enter:
User ID: Use your Rapid Identity Login