Bell Schedule
Doors open - 7:40 A.M.
Classrooms open - 8:10 A.M.
Tardy bell - 8:20 A.M.
Attendance bell - 10:00 A.M.
Dismissal at 3:35 P.M.
Pre-K student hours are as follows:
AM:   8:10 a.m. – 11:16 A.M.
PM:   12:29 p.m. – 3:35 p.m
Grade
Lunch
Conference
Recess
Pre-K
N/A
Kindergarten
10:15-10:45
11:30-12:20
9:00-9:20
9:50-10:10
12:50-1:15
1:55-2:15
1
11:30-12:00
1:30-2:20
9:15-9:30
10:15-10:30
12:30-1:00
2:25-2:40
2
11:15-11:45
2:30-3:20
9:05-9:20
10:15-10:30
12:30-12:45
1:30-1:45
3
10:50-11:20
12:30-1:20
11:30-11:50
4
11:45-12:15
10:20-11:10
2:15-2:35
5
12:05-12:35
9:25-10:10
12:35-12:55
6
12:40-1:10
8:30-9:20
3:15-3:30
Arrival at School Before 7:40 A.M.
At no time should a child be on campus prior to 7:40 A.M.   Staff supervision is not available until the school doors open.
Start Time and Tardies
Our doors open at 7:40 A.M.  Students have the following options when they arrive:
They may eat breakfast in the cafeteria.  They may remain in the cafeteria until they have finished eating, at which time they must go to the Gym for supervision.
They may go to the Library for morning activities if the Library is open and Library passes are available.
They may report the Gym where they must sit quietly and read.
All classrooms open at 8:10 A.M.  Students can use this time to turn in homework, start on daily warm up activities and prepare for the day.
Plan for your child to arrive at school between 8:10 – 8:15.  Students who arrive after 8:20 are marked tardy for the day.
Student Early Pick Up
If you are checking your child out of school early, you will be asked to present a photo identification and to sign the Dismissal Log.  The office will only release students to those listed in the student enrollment system.
Appointments should be scheduled to minimize time lost from academic instruction time.
Arrivals and Dismissals
Arrival Procedures
Students may be dropped off between 7:45 and 8:10 at either the front or back entrances to the Main Hallway.
Students who walk to the school must stay on the walkways and cross at the crosswalks.  Crosswalk monitors will be on duty during these times to ensure safe crossing.
Dismissal Procedures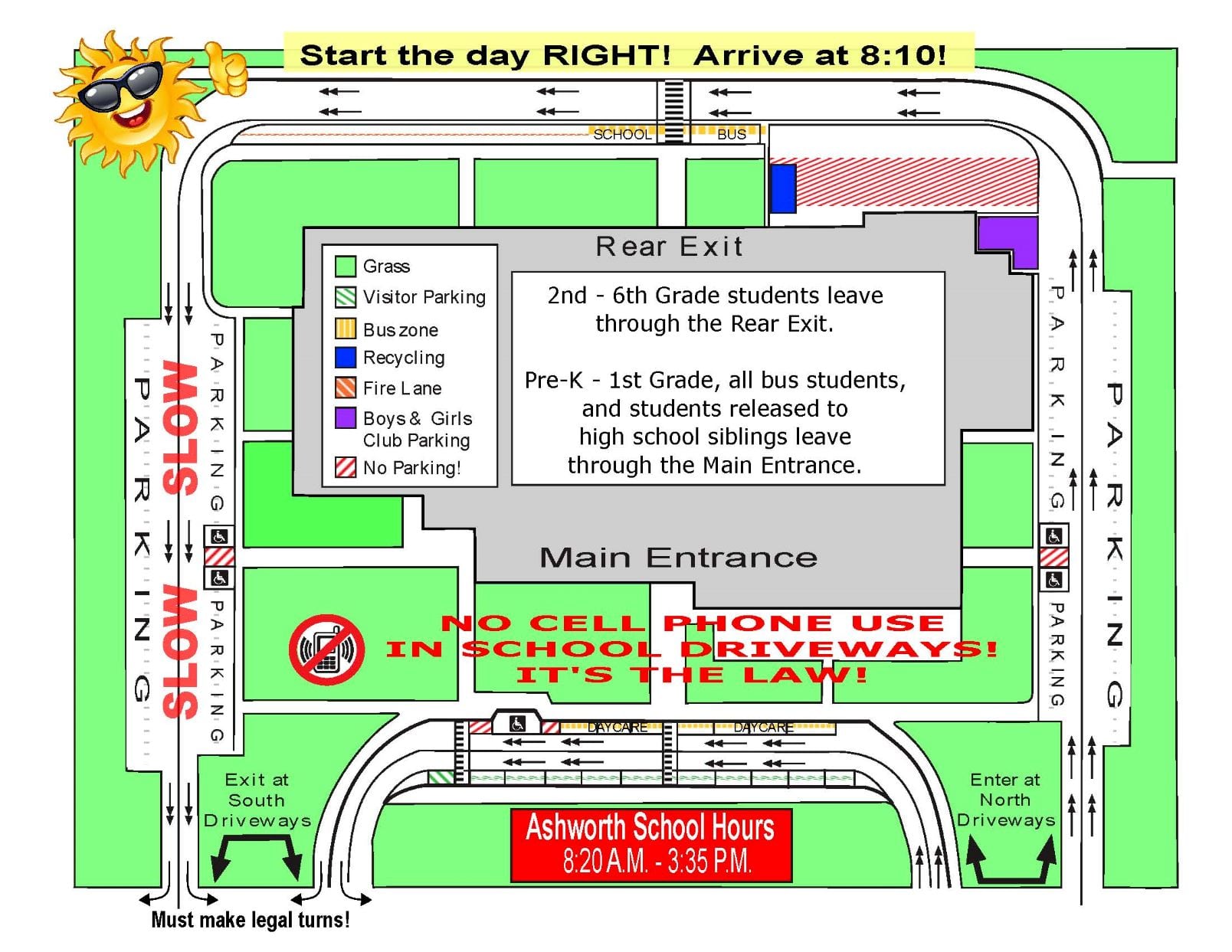 All cars will enter the driveways at the North end of the campus and exit the driveways from the South end of the campus.
Remember that there is no parking in driving lanes at any time! Please do not leave your car unattended for any reason!
Seguin students that pick up Ashworth students are to wait in front of the building. Ashworth students who are being picked up by a Seguin student must exit through the front doors of the Main Hallway.
Please make sure that your child knows their pick-up arrangement before the beginning of the day.
Students will be dismissed at 3:35 P.M.  Each of our grade levels dismiss through designated doors as defined in the Ashworth Student Handbook.  Older siblings are asked to go to the grade level of the youngest sibling and dismiss through the door designated for the youngest sibling.  If the weather is inclement, the students will stay indoors until their ride arrives but will dismiss through their usual door.
Please plan to be punctual when picking up your child.  After 3:45 P.M., students will be brought inside, where they must wait for you to enter and sign them out.
Reporting Absences
If your child is absent from school, you need to call the office between 7:45 a.m. and 10:00 a.m. to report the absence.  Please call 682-867-4800 and let the office know.  If you do not call, your child's absence is unexcused.