Phase 1 security cameras arrive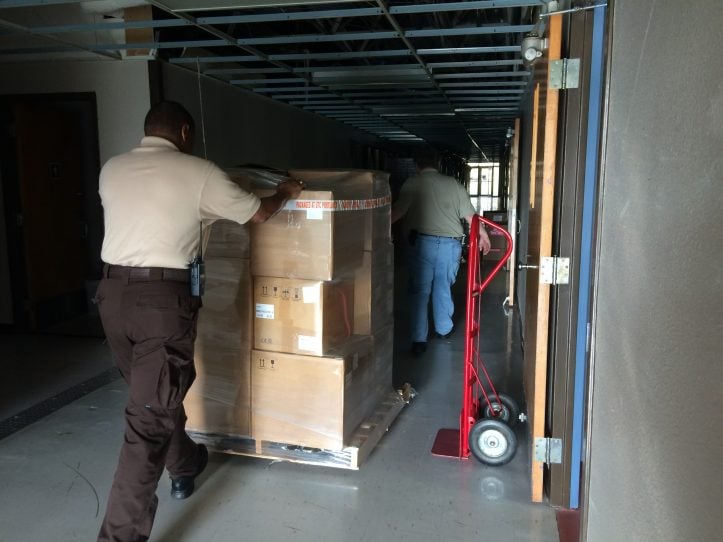 New security cameras – part of the 2014 Bond package – arrived March 25. The cameras, worth $479,000, will be installed in 24 schools, part of Phase 1 of the bond. Eventually all schools will receive new cameras.
The new cameras will allow the AISD Security Department to increase video surveillance from 35 to 80 percent of all buildings and will be especially important for improving coverage of libraries, gyms and cafeterias.
James Smith, AISD Security Manager, said the new cameras are not only much better than those currently used by the district, but are also even better than what was originally planned for in the bond package. And they're cheaper.
"Since the bond recommendations moved forward, we were able to provide better coverage by buying less expensive cameras and an NVR (network video recorder) system, which was not available at the time the bond was authorized by the district," Smith said.
The new higher-quality cameras also record a better picture, and the new NVR system, replacing DVRs (digital video recorders), will allow video surveillance recordings to be saved for 30 days, much better than the current 10-14 days.
The AISD Network Services Department will have all 24 schools in Phase 1 wired and ready for the new cameras to be installed by the end of 2015. The 24 schools are:
Sam Houston High School
Turning Point High School
Turning Point Junior High
Amos Elementary
Ashworth Elementary
Atherton Elementary
Bebensee Elementary
Blanton Elementary
Burgin Elementary
Crouch Elementary
Crow Elementary
Ditto Elementary
Duff Elementary
Foster Elementary
Little Elementary
Moore Elementary
Morton Elementary
Remynse Elementary
Sherrod Elementary
Short Elementary
Swift Elementary
Webb Elementary
Williams Elementary
Wimbish Elementary