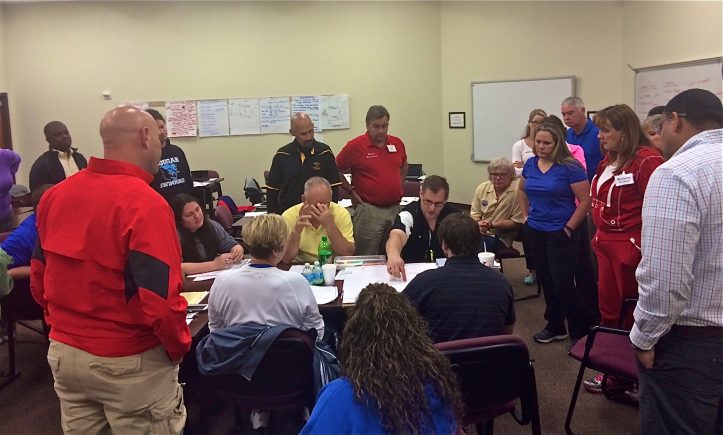 April 29, 2015 - The AISD began planning this week for its future bond-funded districtwide athletics complex with a two-day planning lab. The facility will provide outstanding competition venues for swimming and diving, gymnastics, wrestling and Special Olympics, and will also host the AISD's athletic offices.
The planning lab brought together swimming, gymnastics and wrestling coaches from across the district, along with trainers, representatives from Special Olympics and AISD athletics administrators. Led by David Sturtz, an education consultant with DeJONG-RICHTER, each group of coaches discussed and then shared with everyone their needs, program requirements and wish list. Mr. Sturtz challenged the coaches to think big and then consider how the different programs might collaborate. By collaborating and leveraging shared resources, they will be able to make the most within the budget.
While gymnastics and wrestling would like to primarily use the facility for matches and meets, swimming and diving will also use it for practices. The AISD currently lacks sufficient swimming facilities and has to rent 30 lanes at two other locations. The new athletic complex will include an Olympic-size pool and a diving well.
Though plans are all preliminary at this point, the lab participants discussed making the gymnastics and wrestling areas as flexible as possible, so they can also accommodate other activities. Courts for other sports in these spaces would make the facility especially useful for Special Olympics and permit a wide variety of student uses.
By the second day of the lab, the planning became more focused as each group of participants – swimming/diving, gymnastics, wrestling, training, administration and Special Olympics – developed their ideal floor plans. Several of their challenges included how to make the training facilities easily accessible for all programs, how to separate the humidity of the pool area from the other spaces, and how to best leverage common needs. Each group literally drew their floor plan concepts on large sheets of paper and then shared them with all the participants.
The next stage in planning for the athletics complex is to seek community input. The AISD will host a community meeting about the athletics complex on Monday, May 4, at 7 p.m., at the Mac Bernd Professional Development Center. Mr. Sturtz, of DeJONG-RICHTER, will lead the meeting, present what came out of the planning lab and ask for community input. An online survey will also go up next week to seek additional community feedback from those unable to attend the meeting.
Once community input is collected, the same participants from the planning lab will come together for a second lab at the end of May to develop more specific, detailed plans.