Students accepted to the first classes for new fine arts/dual language academies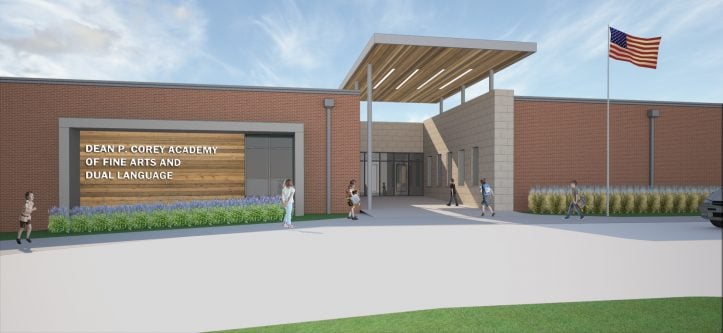 April 2015 - Students have been accepted for the inaugural kindergarten classes of AISD's two new fine arts/dual language academies, scheduled to open in August 2015.
The two new academies, one in north Arlington at Roqemore Elementary and one in south Arlington at Corey Elementary, will provide students an innovative program that develops fluency in both English and Spanish and will offer exposure to Mandarin. Students will also receive in-depth instruction in fine arts, including general music, visual art, dance, drama and piano in grades kindergarten through fourth, and will choose art specialties in fifth and sixth grades.
The district hosted four meetings in February and March for parents of rising kindergartners who might be interested in sending their children to one of these academies. Dr. Steven Wurtz, AISD Chief Academic Officer, explained the program model at the meetings and answered questions.
While the academies are schools of choice open to any Arlington students, space is limited and the program model calls for students to enter the program in kindergarten and remain through sixth grade. Interested parents were required to attend one of the informational meetings, fill out a short application and pledge their willingness to provide consistent support and encouragement to their children as they go through the program.
To make way for the academies, students currently attending Roquemore will be rezoned to the new elementary school at Timber Oaks (Dr. Diane Patrick Elementary School), scheduled to open in August 2015, while students at Corey will be phased out as they finish sixth grade and move on to junior high.
Both elementary buildings will be repurposed to enhance the academies' dual language and fine arts programming. Renovations, designed by Stantec Architects, will provide state-of-the-art fine arts spaces like strings rooms, piano practice rooms, drama space and dance studios. And adjustments will be made to ensure there are enough classrooms so that each each class – or cohort – can spend half the day in an English classroom and half the day in a Spanish classroom.
Funds to repurpose Roquemore and Corey into the academies are coming from the 2014 Bond Package. Check www.aisd.net/bond regularly for updates on the academies and more information on the development of this unique, innovative curriculum.