AISD develops classroom technology standards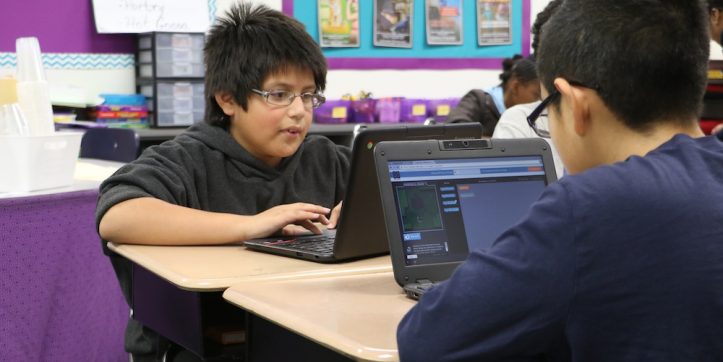 The $82 million in the 2014 Bond package earmarked for technology encompasses many elements, but the underlying objective behind it all is to increase technology access for AISD students for the purpose of improved learning.
In pursuit of this objective, the AISD technology department is developing districtwide classroom standards – minimum standards that each classroom will possess – and spending much of the next two years to put them in place.
The standards call for three components in each classroom:
1) Audio/Visual equipment – projector (interactive projector for elementary), white board, speakers in the ceiling, tablet mount
2) Teacher equipment – laptop and docking station (screen, keyboard and mouse)
3) Student equipment – access to a mobile device (iPads for lower elementary and Chromebooks for upper elementary and secondary)
Before the 2009 bond, the AISD was behind the curve in technology. But the bond that year helped significantly improve network capacity and introduced more technology into the classroom. However, each campus chose the technology it wanted at that time, leading to a technology disparity across the district that still exists today. The implementation of the districtwide classroom standards, funded by the 2014 Bond package, will eliminate that disparity and promote a technology-rich environment at every school.
"We have taken a standards approach to everything that we do as we move forward as an organization," said Chad Branum, AISD assistant superintendent of technology, referring to how technology is now implemented. "The goal is to be more strategic with our technology resources, which will not only create equity across campuses but also improve the overall student learning experience by providing a greater level of access to technology for our students."
"We want to make sure there are no barriers to our students learning," said Barry Fox, AISD director of instructional technology. That means the district will strive to provide access to whatever technology is most helpful for students and promote a culture in which students are using and engaging with technology on a daily basis.
Achieving these standards requires a lot of work behind the scenes, including major improvements in the area of network services and professional development for teachers to learn how to use their technology most effectively.