Ferguson Junior High holds its last concert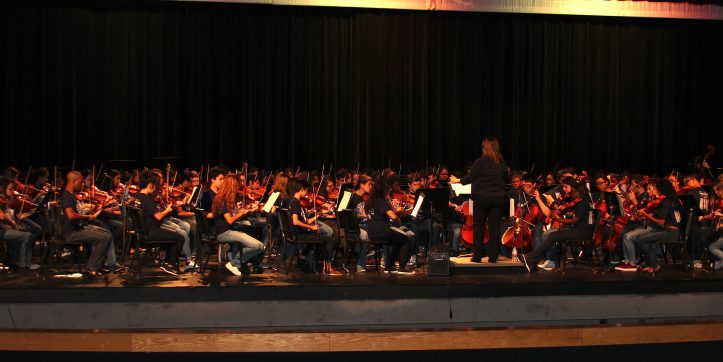 May 28, 2015 - Ferguson Junior High Orchestra held its grand finale Tuesday night, the final concert before Ferguson closes. The school, which opened in 2001, will consolidate with Ousley Junior High next year as part of changes associated with the 2014 Bond package. (Read more about Ferguson closing.)
AISD Superintendent Dr. Marcelo Cavazos attended the concert and congratulated Ferguson teachers and staff for their great work throughout the history of the school. He said the consolidation of Ferguson and Ousley will create a "powerhouse" of excellence. "These two schools combining will continue the trajectory of excellence that Ferguson has known for many years."
The seventh grade and eighth grade orchestras each performed several songs, directed by orchestra teacher Mary Cliborn. For the concert's final two pieces the two grades combined and were joined by alumni musicians of the Ferguson Orchestra dating back to 2004.
The 120 musicians who squeezed onto the stage included Victor Musasia, a Ferguson alumnus and current student at the University of North Texas. He composed the final piece, "Titan's Last Stand," to honor the legacy of his junior high. (Read more about Musasia and his piece.)
The concert also included a special presentation. Tricia Alford, an AISD employee and parent of AISD students, made a quilt out of all the Ferguson orchestra T-shirts dating back to 2001. Alford's daughter presented the quilt to Cliborn, who has been at Ferguson since it opened and built the orchestra into a successful, highly-regarded program. (Read more about the Ferguson T-shirt quilt.)
The evening served as a fitting tribute to Cliborn, the Ferguson Orchestra and Ferguson Junior High. Though the school is closing, teachers like Cliborn and students like Musasia have ensured a powerful and enduring legacy.