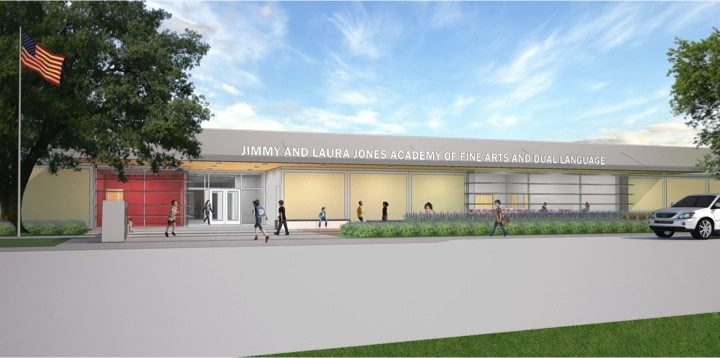 Bid documents are available at smartbidnet.com.
Bids and questions must be submitted to the project construction manager, Joeris General Contractors.
JIMMY & LAURA JONES ACADEMY OF FINE ARTS & DUAL LANGUAGE
PROJECT LOCATION
2001 Van Buren Dr. Arlington, TX, 76011
ARCHITECT
Stantec
BID DUE DATE
Sept. 22, 2015, 2 p.m.
DESCRIPTION
This project is a renovation of the existing 66,700 SF Roquemore Elementary School Main Building and separate 4,000 SF Kindergarten Building (K-Pod). The school will be re-purposed into one of only (2) fine arts schools within AISD and renamed the Jimmy and Laura Jones Academy of Fine Arts and Dual Language.
PREBID SITE MEETING
To be held on Wednesday, Sept. 16, 2015, 4:00 p.m., at Roquemore Elementary School, in the cafeteria. This will provide an opportunity to review phasing, site layout and existing conditions at the school.
CONSTRUCTION PHASING
The school will be occupied during renovation activities, so the construction will be phased according to the following:
Phase 1 - roughly mid-OCT 2015 through JAN 2016
Phase 2 - roughly FEB 2016 through APR 2016
Phase 3 - roughly MAY 2016 through JUL 2016
Phase 4 - JUN 2016 through JUL 2016
Substantial Completion = 29 JUL 2016
Please Refer to Sheets 5, 6, and 8 in General Documents for Additional Phasing Information.
SCOPE OF WORK
The scope of work includes:
- Selective interior and exterior demolition,
- Minor additions, including structural concrete and miscellaneous steel,
- New HVAC equipment and ductwork,
- Electrical improvements and modifications, including lighting,
- Replacement of most of the existing hollow metal door frames, as well as all doors and finish hardware,
- New storefront systems,
- Replacement of interior finishes throughout the building,
- Relocate existing metal lockers in the building,
- Complete replacement of the Main Building and the Kindergarten Building roofing systems,
- Fluid Applied roofing on existing standing seam roof,
- Theatrical curtains,
- Replacement of communications cabling,
- Minor security upgrades,
- Replacement of fire alarm system,
- Foundation and slab leveling,
- Various exterior improvements such as concrete paving, retaining walls, landscaping, architectural concrete, an outdoor theater, and fencing.