Technology takes world geography classes at Martin High School to a new level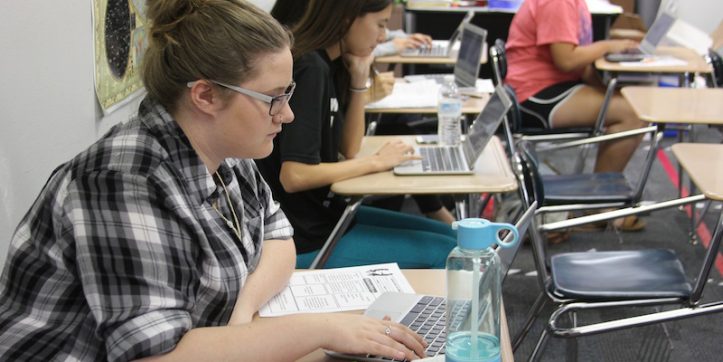 "The students like it because I'm not always talking at them," said Martin High School world geography teacher Sarah Spurrier about the Chromebooks her students use in her classes. "It puts learning in their hands."
Thanks to a Transformation Through Innovation grant, all world geography teachers at Martin High School now have access to carts of Chromebooks for their students.
Chromebooks are laptop computers that run Chrome OS as their operating system and were chiefly designed to connect to the Internet. They provide a keyboard and greater functionality than a phone or iPad.
The idea to apply for the TI grant developed several years ago due to a lack of technology coupled with uncertainty about the quality of new upcoming textbooks.
"We were just frustrated we didn't have technology," Spurrier said.
She was sharing 24 netbooks with five other classes and could only get about six at a time. Without a 1:1 ratio (students to devices), the technology was ineffective.
"It wasn't worth it," she said.
But the TI grant gave the geography teachers the chance to change things.
The grant is funded by the 2014 Bond package and includes $1 million in each of the bond's five implementation years to be awarded to AISD teachers and schools who develop innovative learning environments for their students through technology. The grant money's purpose is to facilitate innovative teaching methods that will truly transform the classroom and learning environment. It's about using technology to teach in a new, more effective way.
[
Learn more and read about other winners
.]
Awarded to Martin in 2014-2015, the grant provided the world geography department with eight carts, each with 32 Chromebooks. The carts are on wheels and include power-docking stations for each device.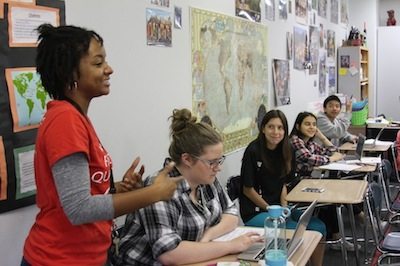 The Chromebooks have transformed the geography classrooms as hoped. Every student in the class can get on them at the same time and take advantage of the many educational interactive web resources.
"Now I can base a lesson around the Chromebook," Spurrier said.
The devices are especially helpful for current events, which are a large component of the geography classes. The students look up news stories in the classroom, compare different news sources, analyze who the event is affecting and consider how the event relates to world geography.
"The Chromebooks get students interested in current events," Martin world geography teacher Gerri Brown said. "The students get a good understanding of why we're teaching what we're teaching."
With the Chromebooks at the students' fingertips, the world and current events are ushered directly into the classroom.
"I can even pull in something that happened last night," said Martin world geography teacher Jason Forsythe. It gives the class a level of real-world relevancy and immediacy impossible before.
Students use Google Drive on the Chromebooks, so every document and project they work on is saved in the cloud. That means they can access and share their work using any device from anywhere. And everything saves instantly, so work is never lost.
The Google Drive really helps with collaboration and group projects. It's easy for members in a group to share and see what each other are doing. They don't have to meet in person to work together, which is especially helpful for students who don't have cars. Even the teacher can look in and make comments. And when it's time to turn in a paper or project, the teacher can see and edit it right there in the Google Drive.
The Chromebooks also give students access to Edmodo and Remind, web resources the teachers use to post assignments, PowerPoints and notes. Students can access whatever they need, whenever they need it, including notes from the first day of class.
The benefits extend beyond the world geography classroom as well. The teachers make their Chromebooks available outside of class time to all students, not just those in their classes. Many students come in before or after school to work on the devices. Some even research colleges and fill out FAFSA forms as they plan for life after high school.
The impact of the Chromebooks has been dramatic.
"It's student-driven learning and now there are no excuses," Forsythe said.
"It's a much more efficient classroom than before," added Brown.
It's also another example of AISD teachers using technology to innovate, transform their classrooms and take student learning to a higher level.
[
See more photos of teacher Gerri Brown's world geography class
.]