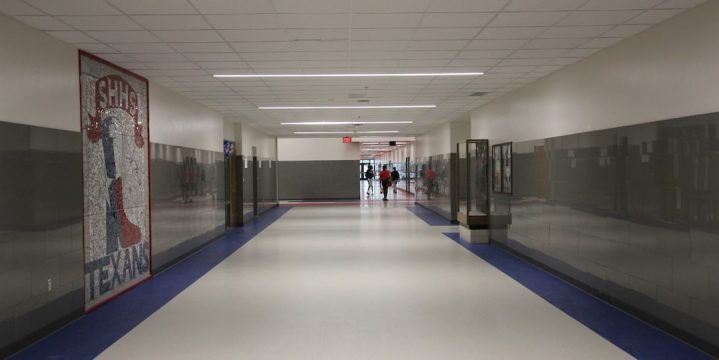 Aug. 25, 2017 - Sam Houston High School's new ninth-grade wing opened in time for the first day of school this week, Monday, Aug. 21. The bond-funded addition includes 13 classrooms.
Areas in the existing building near the addition were also renovated and include a new administration suite, teacher work area, several renovated classrooms and renovated student restrooms.
"The new addition is alleviating the crowded conditions in all parts of the building," said Sam Houston Principal Fernando Benavides. "Instructionally it allows for our teachers to collaborate their work and planning, and it gives our ninth graders a sense of identity, ownership and pride. The 9GC (Ninth Grade Center) is essentially a school within a school and helps make the transition to high school easier for our new ninth graders. It's also a centralized support for our parents because we have been able to readjust our administrative office and counseling space by grade level providing a greater customer service."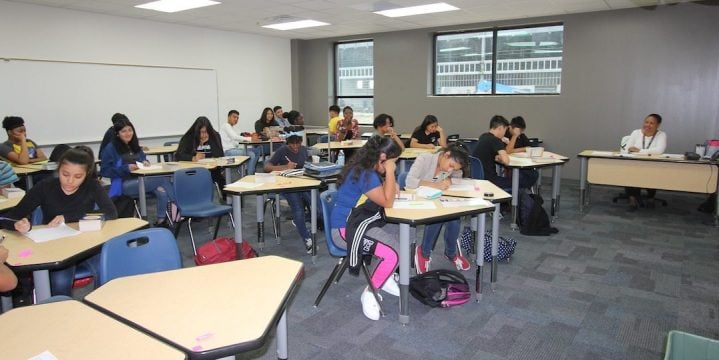 Benavides also praised his custodial staff who worked around the clock for the last several weeks to get the new areas ready for school.
"I think it looks great," said an AISD security officer about the new addition. "Everybody is coming over here to take a peek."
Though the new wing is ready, there is still a lot of bond-funded construction underway at Sam Houston. A new entry with a secure vestibule and reception area is almost ready. Renovations in the existing building for fine arts, career/tech and athletics spaces should wrap up next month and the new dining hall addition is targeted to open in October. Once the dining hall opens, the current cafeteria will be renovated and converted into science labs, classrooms and an art room.
See photos from this week in the new areas and see photos of construction.