AISD dedicates new Career and Technical Center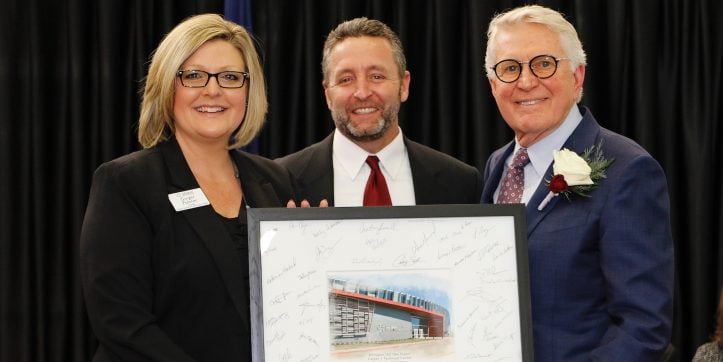 Feb. 12, 2018 - The AISD dedicated the cornerstone of its 2014 Bond program - the AISD Dan Dipert Career and Technical Center - on Saturday. The event attracted about 500 people, including a number of dignitaries and local elected officials, to honor namesake Dan Dipert and tour the state-of-the-art facility.
See photos from the dedication.
The 169,800 square-foot CTC offers juniors and seniors from all AISD high schools 68 CTE courses in 27 programs of study, including 17 that are new to the district. The facility, along with the new Agricultural Science Center, can accommodate more than 4,700 students each week. The CTC houses 16 specialized labs, plus additional computer and science labs and regular classrooms. It features an open design concept that creates a college-like atmosphere.
See photos of the CTC and its construction.
One of those specialized labs was especially busy on Saturday and the days leading up to the dedication. Students in the culinary arts program worked long hours in their culinary lab to cater the event and then serve the food. Down the hall, students in the floral program arranged flowers to decorate the event.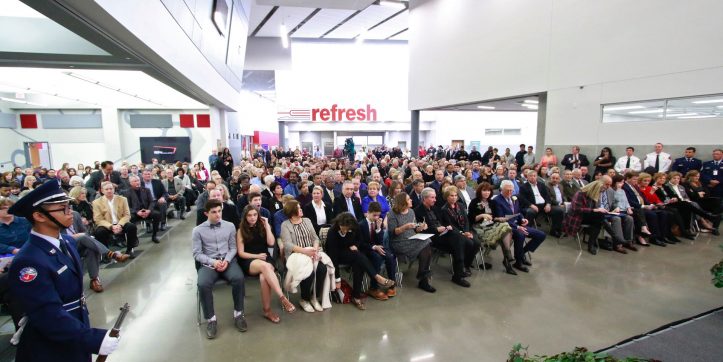 The dedication program included prolific praise for the building and its namesake from district officials, elected officials, and Dipert friends and family. According to the CTC's architect Sloan Harris of VLK Architects, the AISD's new CTC is the state's best. He, along with everyone else, also declared the building has the perfect namesake in Dipert.
"Dan Dipert is Arlington's very own renaissance man," AISD Board of Trustees President Aaron Reich said.
Dan Dipert, originally from Damascus, Arkansas, came to Arlington, in 1964 to serve as the Youth and Recreation Director for First Baptist Church Arlington. In 1972, he purchased a small travel agency and built it into a multimillion-dollar travel and transportation business that is among the safest and most respected motor coach charter operators in the nation.
Active and generous in the community, the Dipert family formed the Dan Dipert Family Fund to benefit Arlington causes, among them the AISD Education Foundation. Dipert was a founding member and established an endowment fund to help students and educators with classroom grants. Dipert also served two terms as a trustee on the AISD Board of Trustees.