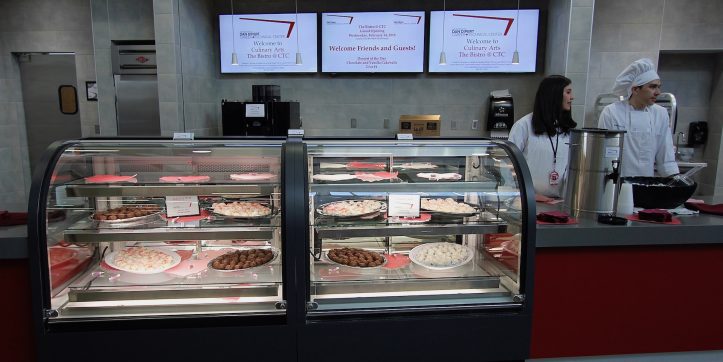 Feb. 15, 2018 - The Bistro at the AISD Dan Dipert Career and Technical Center held its grand opening yesterday. Lunch is now available each Wednesday from 11 a.m. to 1 p.m. by reservation. The Bistro also offers tasty bakery items like the chocolate and vanilla cake balls for sale yesterday.
The Bistro's food is prepared by the CTC's culinary students, juniors and seniors from all AISD high schools. The culinary students also provide catering services for both AISD events and the public.
Other services available to the public at the CTC include cosmetology, floral design and automotive. See this brochure for more information.
The bond-funded Career and Technical Center, which celebrated its dedication Feb. 10, offers juniors and seniors from all AISD high schools 68 CTE courses in 27 programs of study, including 17 that are new to the district. The facility, along with the new Agricultural Science Center, can accommodate more than 4,700 students each week. The CTC houses 16 specialized labs, plus additional computer and science labs and regular classrooms. It features an open design concept that creates a college-like atmosphere.