Librarian uses TI grant to bring technology to Butler library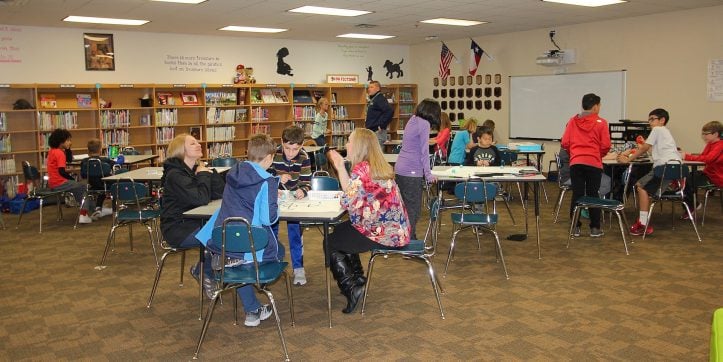 March 2018 - Butler Elementary's library isn't always quiet. In fact, on some days it's the loudest room in the school.
That's because Butler's library is no longer just a room full of books.
Now it's also full of technology, with various types of robots, iPads, Chromebooks, laptops, Lego robotics and much more. And it's full of students using the technology – but not always quietly.
The students love the technology – so much so that many stay after school to hang out in the library. Librarian Tamara Jackson hosts a makerspace twice a week with about 40 students each day. The makerspace – a time for students to explore and engage with the technology in the library – is so popular at Butler that Jackson had to cap attendance to keep it manageable.
"After school can just be for fun," Jackson said about the makerspace time.
But it's still educational.
"They're exploring, they're talking, they're collaborating."
Jackson provides the technology, along with art supplies and all the library books, and then the students are free to follow their curiosity to explore, create, play and learn.
At one afternoon session, four boys sat together at a table playing with Spheros – little ball-shaped robots controlled with iPads.
"I like the choice of activities," one said, and then started listing his favorites.
All four agreed the activity they like best is Stikbots. They create stop-motion cartoons with little stick figurines, a green screen and an app.
Nearby, two other students used Osmo, a device with educational games that digitized their manual drawings. Other students played with robots or Legos or worked on art projects.
One student sat on the floor with her friends making wallets out of duct tape.
"It's a lot of fun," she said. "So many new things."
They really are new things, because before Jackson arrived three years ago, the library did not have much technology.
But thanks to Jackson's passion for technology and several Transformation Through Innovation grants, Butler's library has changed dramatically.
"Ninety percent of what we use came from the TI grant," she said.
TI grants are funded by the 2014 Bond package and include $1 million in each of the bond's five implementation years to be awarded to AISD teachers and schools who develop innovative learning environments for their students through technology. The grant money's purpose is to facilitate innovative teaching methods that truly transform the classroom and learning environment. It's about using technology to teach in a new, more effective way.
"We use technology every single week in every single grade," Jackson said.
The technology is beneficial for all students, but it can be especially useful for those who may struggle with traditional teaching and learning techniques.
"We all learn differently," Jackson said.
The hands-on, experiential nature of the technology tools has a way of resonating with students in a way that nothing else does.
"It's not just about Legos and robots," Jackson said. "It's about making connections with learning. Technology can make something click. It can help students be successful."
Jackson uses the technology to complement what students are learning in their classrooms. It's a cross-curricular tool used to foster curiosity, bring concepts and ideas alive, make connections, and deepen understanding.
A good example are the Lego StoryStarter sets. Jackson broke one class into six groups and had each group build various scenes with Legos to tell a story. Then they used iPads to create and narrate stop-motion movies using their Lego scenes.
For younger grades, Jackson assigned a similar project. Second graders built Lego scenes depicting stories they imagined and then took photos of the scenes with iPads. Once back in class, they used the photos to write the stories they had imagined.
So it may be a little louder in the library than it used to be, but that's how Jackson intends it.
"It's about meeting the needs of each and every student," she said.
See more photos of the Butler makerspace.