March 2018 - As you walk toward the end of the long hall at Pearcy Elementary, toward the two new STEM labs, you may hear a lot of noise coming from inside the last two rooms on the right.
"It's not quiet," Pearcy Principal Codi Van Duzee said.
It's the sound of excited discussion and even some laughter – the sounds of students figuring things out, working together, testing, failing and trying again.
It's the sound of learning – exactly what the two new STEM labs, which opened at the beginning of this school year, are for.
Pearcy has wasted no time taking full advantage of the renovated spaces.
All AISD elementaries are getting two new STEM labs as part of the 2014 Bond program. The STEM – science, technology, engineering and math – labs represent the strong commitment the AISD has made to improving education in science and math and sparking student interest in these disciplines. (Read more about the AISD's STEM labs)
Each school is also getting a staff person to manage the labs. But Pearcy went a step further and hired a full-time STEM and technology teacher, Karissa Johnston, in addition to the STEM manager.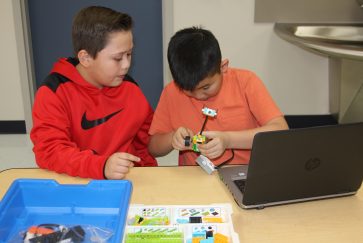 Johnston, who, like her principal, can't hide her excitement and enthusiasm about their STEM labs, designs and teaches STEM lessons for all Pearcy classes, kindergarten through sixth grade. She aligns the lessons with what the students are doing in their other classes, incorporating science, technology and engineering into their regular coursework.
For example, when kindergarteners read the book "Twenty-One Elephants and Still Standing," about P.T. Barnum's circus elephants crossing the Brooklyn Bridge, Johnston designed a lesson that required students to build bridges out of Popsicle sticks and paper cups so that all the elephants could walk across.
Johnston also collaborates and co-teaches with other teachers who want to teach a particular lesson in the STEM labs, and she visits other classrooms to teach about technology.
"We already had very technology-focused teachers at Pearcy, but the STEM labs have taken us to another level," Van Duzee said. "Our whole building has been very focused on this idea of STEM learning."
This STEM learning is student-driven. The students work together to figure out how to problem solve or make something work.
"We're really focused on rigorous and relevant learning experiences with enriching hands-on activities," Van Duzee said.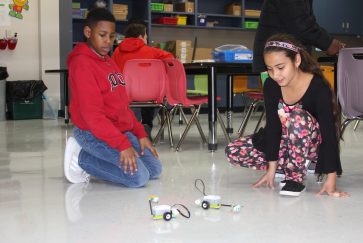 A recent third-grade project involved making parachutes. Students in small groups had to design and make a parachute, then attach it to a small cup that held a miniature Santa Claus. Johnston gave each group "$10" to buy the supplies  they needed from what she had provided in the classroom and then turned them loose to do the work. They had to carefully choose their supplies – and make sure they fit in their budget – and then make an operable parachute that, when tested from a specified height, would allow Santa to land standing up.
"Johnston never tells them how something is supposed to be done," Van Duzee said. "A lot of times there is no right answer."
She provides the supplies, parameters and information and then allows the students to discover and figure it out on their own.
All projects require collaboration and a lot of discussion. And often they involve failure.
The parachute might not work the first time. The code written by students to make a Lego robot move might not work the first time. Trial and error is required, along with thought and discussion on how to get it right the next time. It's about problem solving and figuring out why things work, or why they don't work.
"Value is in experience, and you learn so much when it's wrong," Van Duzee said.
There is no doubt this method of teaching is something that works.
"The kids love it," Van Duzee said. "And there are no discipline issues because the students want to be there.
"It's very much an enriching time for them."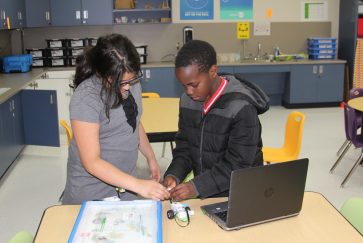 While the lessons focus on science and technology, they also intentionally foster skills that will benefit students in all subjects now and into the future.
"We don't know what kinds of careers will be available when these students enter the job market," Van Duzee said.
But the skills they are learning in the STEM labs are transferable to any job – skills like working well in groups, problem solving, persevering, developing creative solutions to challenges, and valuing mistakes as opportunities to learn and grow.
Yes, it might be a little noisy on the hall as you walk toward the labs – the sounds of talking, laughing, discovering, learning.
But walk inside the labs and see where the noise is coming from. Look at some of the recent projects on display: the catapults, bridges, roller coasters, cardboard microwaves (actually used to cook s'mores) and more. And see the students huddled in discussion, or perched at a laptop writing code, or sprawled on the floor racing robots they built and programmed.
The STEM labs are working. You can hear it.
See more photos from the Pearcy STEM labs.