July 2018 - Imperial Construction did more than just build new STEM labs at Bebensee, Duff, Fitzgerald and Williams elementaries. The general contractor also donated $2,500 to each school to buy new supplies for the labs.
Imperial gave the money directly to each school so the principals and teachers can decide exactly what they want to purchase. Much of what they are buying includes coding and robotics equipment.
"We are extremely grateful for the donation from Imperial Construction," said Mark Kammlah, principal of Williams. "The acquisition of these resources, combined with resources secured through library services, has inspired two of our staff members to plan for a coding and robotic club for our students for the 2018-19 program. As we continue to provide for quality learning experiences for our students, donations such as these make a huge difference."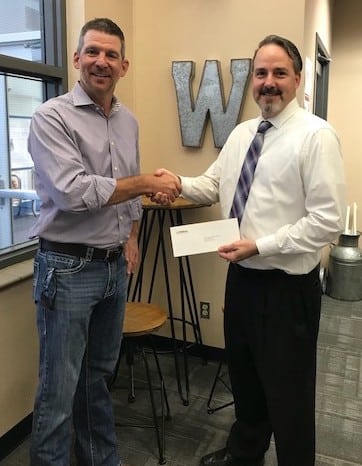 Bebensee has similar plans for the money.
"We plan to purchase supplies for our students that will allow them to learn in-depth through scientific inquiry – hands-on exploration," Bebensee Principal Charlotte Carter siad. "One area of focus will be robotics."
The AISD ensures that every STEM lab is consistently equipped with the materials necessary to enhance the learner experience. Therefore, standard STEM equipment that meets the needs of the Texas Essential Knowledge and Skills for both mathematics and science is provided for the laboratories through bond funds. The donation from Imperial enables these recipients to purchase materials customized to meet their campus needs above the standard materials.
The construction of the two STEM labs at each of the four schools started in April 2017 and was funded by the 2014 Bond program. In addition to the labs, the scope also included renovations to provide an acoustically-appropriate strings room and a front-entrance security vestibule, along with a number of other life-cycle and deficiency upgrades, including, among other things, improvements to ADA accessibility, technology infrastructure, mechanical systems, plumbing, the parking lot and roof. LBL Architects designed the renovations and Imperial Construction served as the general contractor.
"Imperial has been very blessed to be a partner with the Arlington ISD," said Mark Tucker, Imperial's executive vice president of preconstruction services. "We appreciate all involved and are very glad that we can be part of such an exciting program and give back to the future of our community."