AISD to host GC/subcontractor matchmaking event
February 27, 4-7 p.m.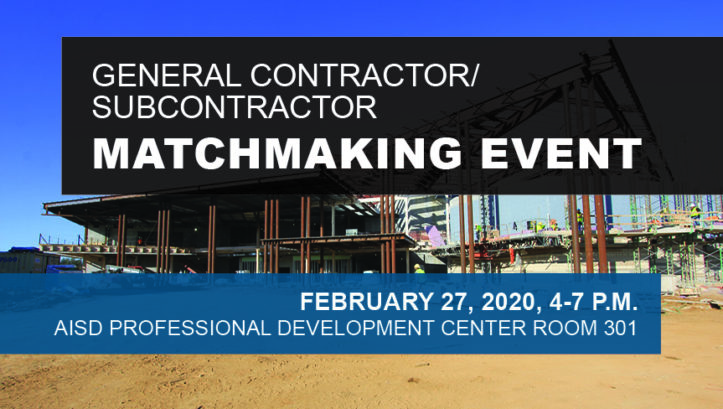 The Arlington Independent School District invites general contractors and subcontractors to participate in a matchmaking and networking opportunity.
This "speed-meeting" event will give subcontractors an opportunity to sit down with general contracting firms to present their capabilities and discuss partnering opportunities.
February 27, 2020
AISD Professional Development Center, Room 301
1111 W. Arbrook Blvd. Arlington, TX 76015
GENERAL CONTRACTORS: Sign up for a free table for up to 3 company representatives. Subcontractors will visit with you in 10-minute intervals to present their firm's capabilities, capacity, and experience.
SUBCONTRACTORS: Admission is free. Come prepared with your Capabilities Statement, one-page leave behind, or other marketing materials. Be ready to spend about 10-minutes introducing your firm to attending GCs. Sessions will be timed, so gear up for this fast-paced event.
Light refreshments will be provided.
For more information contact:
Rosalyn Asher, ACARI Management Group
rosalyn@acarimg.com | 682-305-1287
The Arlington ISD is just getting started with a new bond program. Voters approved the $966 million bond proposal on Nov. 5, 2019. The 2019 Bond will fund the following prioritized needs:
Rebuild four aging schools
Additions, renovations and furnishings for full-day Pre-K classrooms
Junior high and high school fine arts/dual language academies
Renovations to address facility condition and life cycle needs at all campuses
New playgrounds and shade structures for all elementary schools
An addition to the Dan Dipert Career + Technical Center to meet program demand and allow for program expansion
Renovations to create a third districtwide competition athletic field at Martin High School and improvements to Wilemon and Cravens fields
Upgrades to athletics facilities and fine arts spaces at all secondary schools
Classroom additions at select campuses to right-size for enrollment and program capacity
New fine arts instruments, uniforms and equipment
New school buses and service vehicles for program needs, hazardous routes and replacement of older vehicles
Additional security cameras and upgrades to security, safety and communications systems at all facilities
Technology upgrades for network infrastructure and replacement of staff and student devices