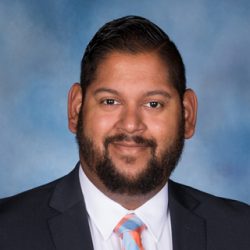 BHS Principal
rlizardo@aisd.net
682-867-4400
School Secretary
Teressa Garcia
tgarcia4@aisd.net
682-867-4501
I am honored to be serving as the principal of Bowie. Prior to being the principal here, I was the Principal of Carter Junior High, an assistant principal here at Bowie (so it's like I am coming back home), and an assistant principal at Bailey Junior High. Before my life as an administrator, I also taught ESL students at Boles Junior High, Wheat Middle School in Cleburne, Texas, and students from the ages of 6 through 60 as an English teacher in South Korea.
I received my bachelors in Communication and Masters in Educational Leadership from Southwestern Adventist University.
I am married to a wonderful woman who is also an educator, and we have three children together.
"Any fool can count the seeds in one apple. Only God can count all the apples in one seed." – Robert Shuller
That quote reminds me that all of the students at Bowie are an unlimited well of potential and as a school we have the responsibility to help them to be the best possible version of themselves they can be. With that I look forward to serving Bowie's Students, Parents, Teachers, and Community. Go Vols!