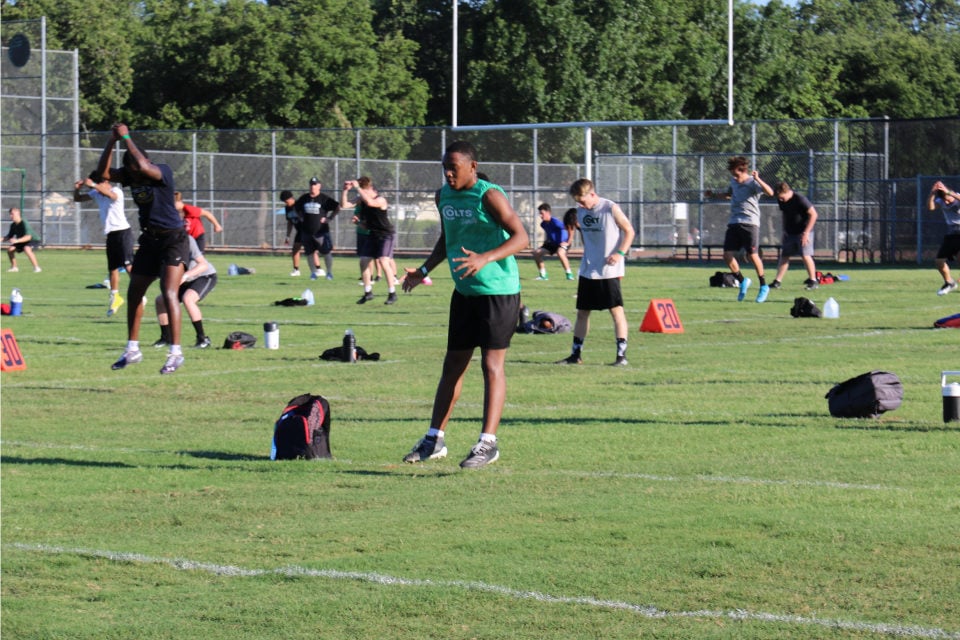 Arlington ISD Athletics Training is Back with New Safety Rules in Place
Monday was a big one for students and coaches across the Arlington ISD and the state as the UIL allowed summer strength and conditioning, skills instruction, and marching band practices and rehearsals to begin.
For many, that allowed students to be around each other and school personnel face-to-face for the first time since early March.
It was a big deal – big enough at Arlington High football coach Scott Peach had trouble going to sleep Sunday night just thinking about getting to interact with student-athletes face-to-face again.
"We know we're kind of setting the tone for the state and the country as far as whether we're going to get this opportunity moving forward," Peach said. "It was important for our whole district to do it the right way. So far we feel pretty good about what we've done."
Monday's workouts were completely different than the summer workouts in the past due to the COVID-19 pandemic. All six high schools had screenings for students before they could begin working out. That meant temperature checks and health screenings. That also meant students had to bring their own water to practice as to limit contact. Once they were on the field, they were spaced out and kept together in pods. All workouts at Arlington High were done outside and in shifts. Football and volleyball workouts were from 6:30 to 8:30 a.m. with other sports working out at 9 a.m.
There was hand sanitizer at the school and weights were disinfected after each use.
While the UIL has guidelines in place, so does the Arlington ISD. In many cases, the district policies are more stringent that what the state requires. There was also a lot of thought that went into the decision to start workouts once the UIL announced they would be allowed last month.
That included rehearsals last week for coaches without students at the school so they were all aware of how it would work. That required a lot of effort, but Arlington ISD athletic director Eric White – who visited all six high schools Monday – believes it was worth it. See an interview with White below.
"You can talk to kids on Zoom, you can do all those kinds of things," White said. "To get out here and put your eyes on them, it's a boost for morale. You can see it with the coaching staff. You can see it with the kids. It's got to lift your heart up. That's what you're in the business for. People sign up to the coach to influence kids, to be around kids, to work with kids. Now you get to."
Where the conditioning camps lead to remains to be seen. If things progress, students can eventually get back in the weight rooms and the gyms. Football, basketball and cross country are slated to begin in August. Of course, a lot has to happen before things get to that point, including figuring out what school will look like.
Does that mean football season will begin as scheduled? Peach is hopeful.
"People smarter than me will have that answer," he said.  "I think a lot of it has to do with how we handle this."