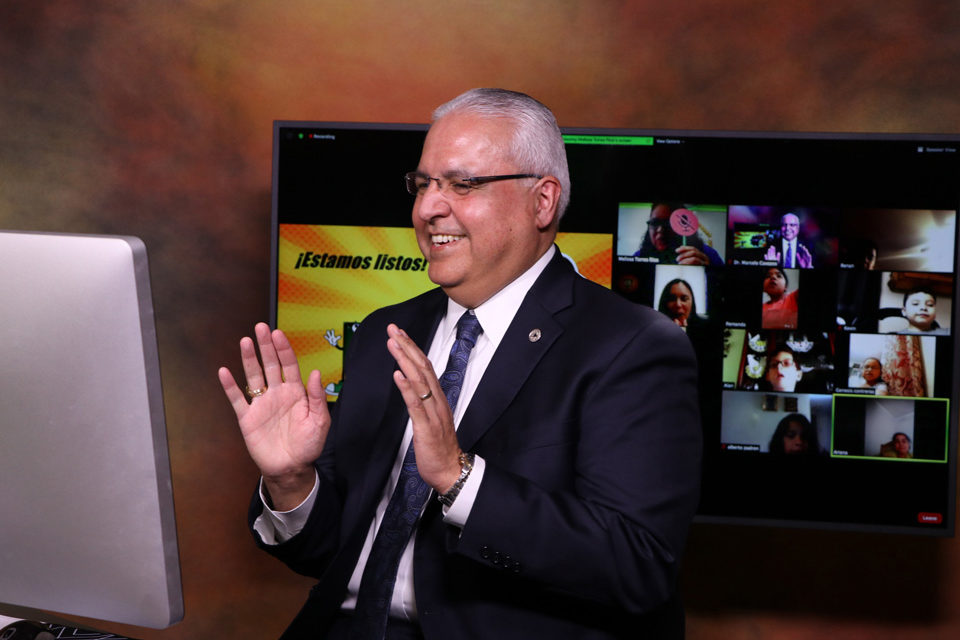 Zoom Along a Fun Experience for Arlington ISD Students
Fourth-grade students at Pearcy STEM Academy got to take a look inside the virtual locker of Arlington ISD Superintendent Dr. Marcelo Cavazos on the first day of school Monday.
What the more than 60 students who were on the call found out was that his favorite color is blue and that his favorite foods are tacos and enchiladas.
It was that kind of day for Cavazos, whose annual Tweet Along changed to a Zoom Along to allow him to drop in on classes across the district. By the time Cavazos left his final class, he had visited nine campuses virtually. Additionally, he did an in-person stop to see how the student meal service program was running at Boles Junior High.
It was a rewarding day for him.
"I stressed to the teachers and students how proud I was of them for their efforts," he said. "We all know we'd rather start the school year in-person. That's never been a question. But the students were excited to be back at school and that excitement carried over to everyone."
Cavazos started his day visiting a full-day Pre-K class at Larson Elementary. It was one of three Pre-K classes he visited as the Arlington ISD rolled out full-day Pre-K throughout the district Monday. He also visited an advanced art class that will eventually be taking place at the new Center for Visual and Performing Arts.
Cavazos also played show-and-tell at a bilingual first-grade class at Thornton Elementary where he heard stories read to Pre-K students. Similarly, he fielded questions on everything from bus service to when school will return to in-person learning.
At Boles Junior High, he got to visit with food and nutrition service workers at one of the district's 30 student-meal plan distribution sites.
"I'm proud of how prepared all of our students and teachers were," he said. "All first days are special, but this is one I'll remember for a long time."