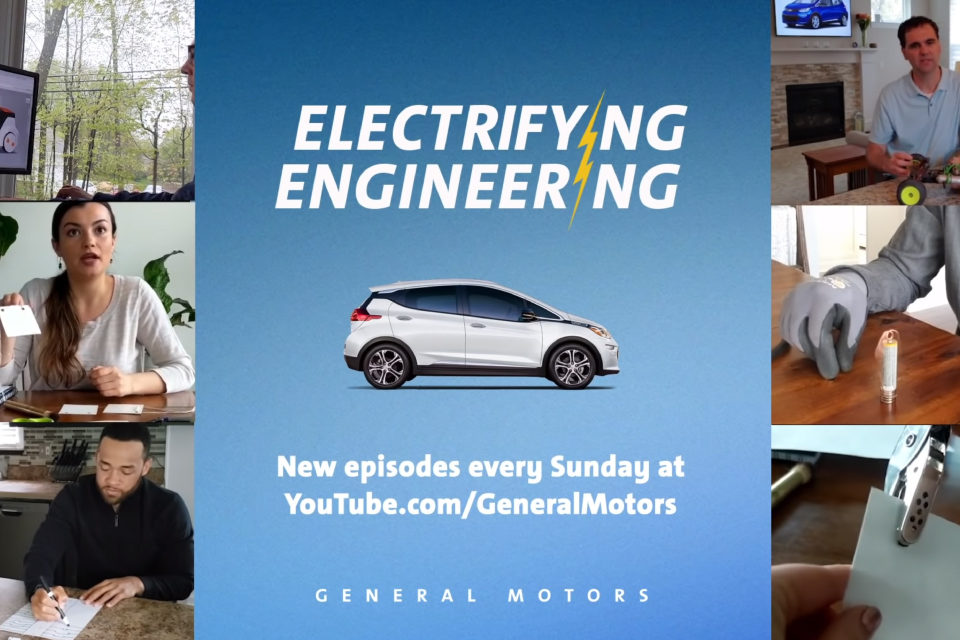 Electrifying Engineering: A Series of Videos for Students and Parents
Call it summer slide. Or summer learning loss. Or summer setback.
For Elena Chase, mom to a sixth grader at Butler Elementary and eighth grader at Shackelford Junior High, a summer break with intellectual inactivity is referred to in her home as "summer brain drain."
"It's when their poor little brains go numb from inactivity," said Chase, an accountant. "Unless you consider cell phones and television activity."
Most don't.
Toss in the COVID-19 pandemic, where staying at home is suggested, and you've got a lethal combination of brain drain and boredom.
No wonder one of the trending go-to's for the summer is a series of educational videos being offered up by the carmaker General Motors.
Educational? Over the summer? Thankfully, the video series also happens to fall in the category of pretty darn cool.
Electrifying Engineering is a series of YouTube videos providing free, hands-on activities for children 7 to 13 using common items found at home.
Like batteries, magnets and copper wire to build an electric motor.
Or string, poster board and petroleum jelly to measure air particles.
It's the sort of thing you can try at home.
GM Sparks Passion for Engineering
Electrifying Engineering originated from GM's continued commitment to ignite passions for everything STEM. Initially, the videos were to help bridge the gap of remote learning once students were sent home due to COVID-19. Now, the videos help keep them engaged through the often-idle days of summer.
GM engineers are taped sitting at their home dining room tables, sometimes with their own children as little aides. There's Autonomous Engineering Manager Charles Muse guiding the audience through a 3-D drawing activity that helps explain how autonomous electric vehicles see. Or Sophia Borroni-Bird, an environmental engineer, teaching about air pollution with an activity on how to measure air particles at home.
Borroni-Bird talks about how airplanes, cars, even barbeque grills, burn fuel and release gases that contribute to air pollution.
"That's why I became an environmental engineer," she says right into the camera. "So that I can find ways to keep all the things we need and have a stable climate and clean air."
Learn How to Build an Electric Motor
Kris Sevel's How to Build an Electric Motor program focuses on electric propulsion, or the parts that make an electric vehicle move. Sevel, a propulsion engineer, uses not only his two daughters, but also his dog to explain how you can build an electric motor with batteries, magnets, copper wire and pliers. In his video, which runs about eight minutes, he first explains what is motorized and what isn't (a stuffed dog? Nope. A stuffed dog that uses a remote control to bark? Yep.) before jumping into the experiment.
What makes Electrifying Engineering work is how Sevel and the other hosts don't talk down to their intended audience. They also don't talk over their heads.
"Luckily, I have a 5, 7 and 9-year old," Sevel said. "Basically, I thought about things they would understand. That's why the first part of the video I use toys to relate to the electric motor. It quickly makes the concept clear. You can then move on from there."
Everyone is encouraged to watch
The videos arrive each Sunday, uploaded to the General Motors YouTube playlist in English and Spanish. GM sought out employees after COVID struck asking for ideas. They asked their staff to turn some aspect of their jobs into fun, interesting and knowledgeable experiments.
Additionally, parents are nudged to watch videos with their student and try the activities together. When complete, viewers are encouraged to share pictures on social media using the hashtag #ElectrifyingEngineering.
Chase, the mom of two, had not seen the videos but was planning to share with her children, particularly the eighth grader who is constantly curious about how things work. Sevel said the videos are tailor made for students like him, but also those who aren't aware that STEM opens up a different kind of fun.
"We hope whoever watches finds it interesting and helpful, and that it sparks the interest of future engineers," Sevel said of the videos, which will run through July. "I'm just really proud to be a part of it."