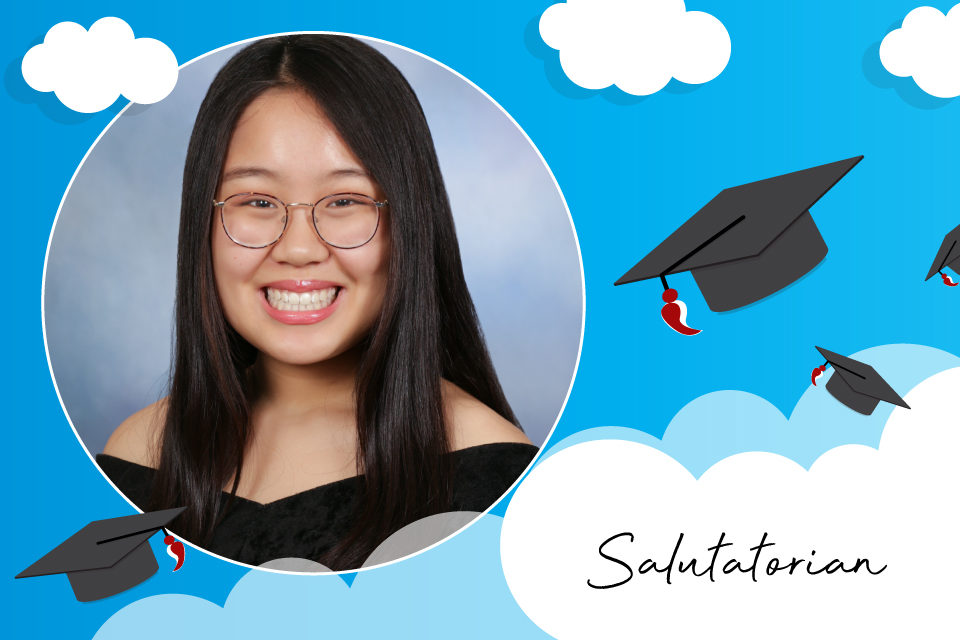 Salutatorian Sabrina Lu Will Continue Her Education In Neuroscience And Interdisciplinary Studies
In the weeks leading up to Arlington ISD graduations June 5, 6 and 7 at AT&T Stadium, we will be celebrating the Class of 2020 valedictorian and salutatorian for all seven Arlington ISD high schools.
Four Questions with Martin High School Salutatorian Sabrina Lu
College attending: University of Texas at Austin
Intended major: Neuroscience/Interdisciplinary Studies
Attended Arlington ISD schools since: Kindergarten
What was your favorite class taken in the Arlington ISD?
AP U.S. History: this class gave me the most satisfaction by the end of it. I had one of my best friends in the class, built a really great relationship with my teacher, and learned some history, which is dope. While taking the class, I admit it was super stressful with the amount of material to swallow (like staying up till 3 a.m. taking notes), but by the end of it, I was super proud of how well I did in the class due to all my hard work!
What have you learned about yourself through the COVID-19 closure?
I really need some kind of stress in my life. When things are too calm and placid, I lose sense of a "grind" and do things kind of aimlessly. However, this form of a break has been really good for reflecting.
What advice would you give underclassmen or younger students about education and their future?
Adults are such a great resource in your life whether it be teachers or family. They've got at least a couple years on you, and they have advice on basically any topic. Plus, building these relationships are genuinely so worthwhile. However, one thing about advice is you don't have to take it. (But be sure to listen wholeheartedly.) Remember, this is someone else's opinion, and it may be true for them, but maybe not you. The fun part is being to pick out what parts of the advice you'd like to use!
What would you like to say to the Martin High School Class of 2020?
Since kindergarten to now 13 years later as seniors, isn't it wild how we still know each other or how we've seen so many come and go? It's amazing how life just places you in a place and meeting people just feels like a coincidence. All the highs and lows through building these relationships has helped us grow up to now adults! Change pulls people away, but you still have all the memories. For sure, the bulk of our senior year memories haven't occurred as expected but thank you for the 12-and-a-half years' worth of memories we've created together!