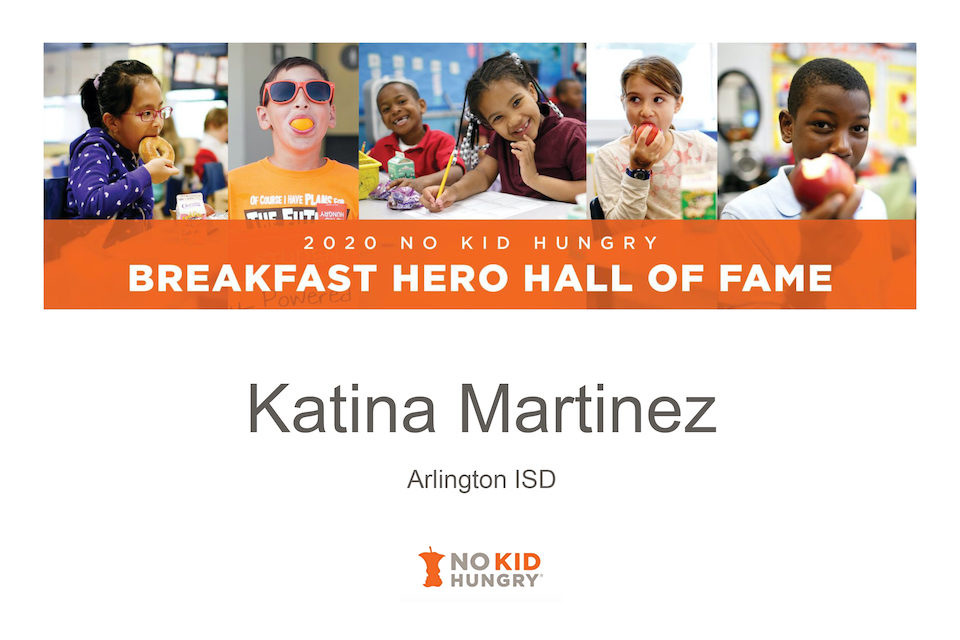 Students do better when they eat breakfast
Breakfast in the classroom may not sound like a good idea at first. Food means messes and distractions – not exactly what teachers want in their classrooms. But when David Lewis, Arlington ISD director of food and nutrition services, proposed the idea to Short Elementary Principal Katina Martinez, she decided to go for it.
"Not a lot of our kids were eating breakfast," Martinez said.
Even though nearly 90 percent of Short's student body qualifies for free and reduced lunch, only 30 percent were eating breakfast. So, at the beginning of the 2019-2020 school year, Short launched the breakfast program.
Three kiosks were strategically stationed throughout the school. When kids arrive in the morning, they just stop by the closest kiosk, grab their breakfast and head to class.
"If it's best for my kids, I'm going to do it," Martinez said. "I never want my kids to be hungry."
To get the program started, Lewis met with teachers and explained how the program would work. While teachers may have had some understandable hesitation, they shared the principal's willingness to do what's best for students. They worked together with food and nutrition services to make the program a success and have made tweaks along the way to improve it – like adding cleaning wipes and larger trash cans to each classroom. Lewis even returned to the school several times during the year to meet with students and get feedback on the breakfast items. He and his department used that feedback to adjust the menu.
The program has worked. The percentage of students eating breakfast quickly jumped to 50 percent with 7,500 more breakfasts served in the first semester.  
When students are not hungry or worried about where their next meal will come from, they are free to learn.
"Breakfast is the most important meal of the day," Martinez said. "It sets the tone for the rest of the kids' day. If their tummies are full going in, they can learn."
"We like to look at the whole child, not just academics," she said.
By meeting the needs of the whole child – even with something as basic as breakfast – it equips them to perform better academically and excel.
That's exactly what is happening at Short.
"We are making double-digit gains in our assessment data," Martinez said. "Our kids are making such great gains."
While the breakfast program is not the sole reason for the improvement, it is certainly a piece of the solution at Short.
School Breakfast Hall of Fame
For Martinez' leadership in the breakfast program, she was inducted into the No Kid Hungry School Breakfast Hall of Fame earlier this year.
"I was honored to nominate Ms. Martinez to the School Breakfast Hall of Fame," Lewis said. "Ms. Martinez was immediately optimistic about the breakfast program and how it would support the students. She championed the program and worked through whatever obstacles came up."
Lewis noted that Short Elementary was also awarded the 2020 Dairy Max Breakfast Games, which showcased the importance of breakfast and fueling up in the morning. Highlights of the games were two special guests, a local dairy farmer and Dallas Cowboy player Joe Looney, who shared their stories with Short students on how they fuel up each morning.
Lewis and Martinez' cooperation with breakfast has turned into a full partnership. Now, Short has a supper program as well. Thanks to new opportunities provided by USDA this year, students can grab their dinner as they leave school in the afternoon and take it home with them. Short was one of four elementary schools (Hale, Larson, Short, Thornton) that piloted the supper program that now includes 20 Arlington ISD schools.