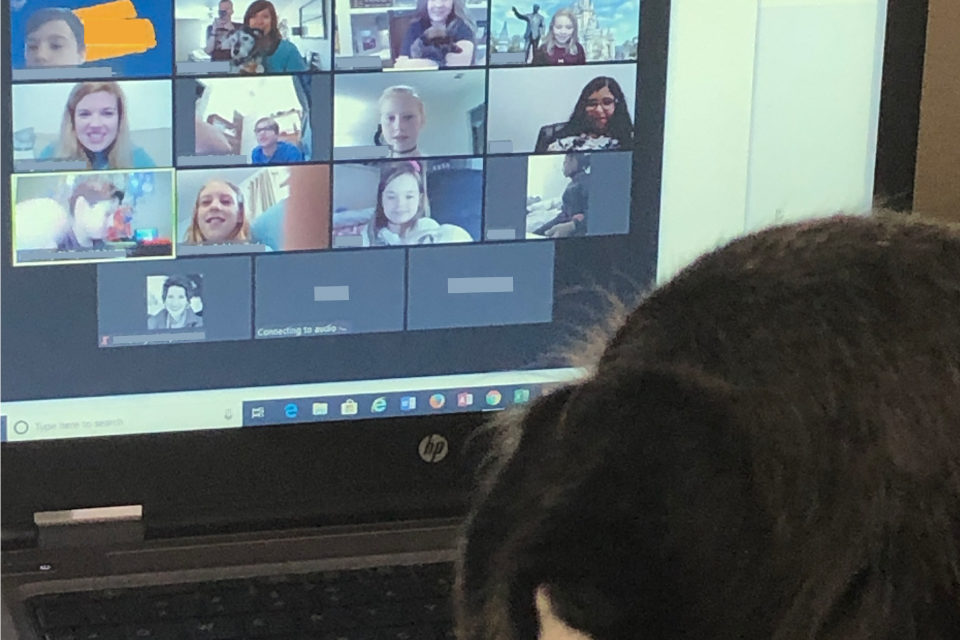 Two-way videos are Cool instead of crazy.
That's the way Crow Leadership Academy principal Jamie MacDougall described the feelings students have when they get online for video calls with their teachers.
It makes sense.
With schools in the Arlington ISD closed for now, social distancing the norm and Tarrant County under a Stay Home, Work Safe order, some students in the district are having a hard time not seeing their teachers and classmates, eliminating their chances at interacting.
Technology and two-way videos has helped ease some of that burden, and Arlington ISD teachers are taking full advantage of it.
Less than two weeks into the district's closure and video class meet-ups have become the norm, especially in elementary school. There are teachers across the district setting up video conferences to read stories, sing songs, talk about school and, maybe most importantly, just see one another.
"It's really changed a lot of things, especially for my class," said Crow first-grade teacher Kimberly Engebretson. "They really respond well to social interacting with each other and me. I heard from more parents after our first meeting that they were doing more at-home learning and keeping up with technology. It's really important to keep the relationships with students established at this time."
That's why Engebretson was in her pajamas reading "The Pout-Pout Fish in the Big-Big Dark" to her students and their parents Monday night. The students were able to have a two-way conversation with Engebretson and also talk with each other.
While the Arlington ISD is rolling out the At-Home Learning Hub in phases to take care of the instruction portion of what students are missing at school, technology's role in allowing interaction may be just as important.
"There's something about being able to see [the teachers'] faces and us to see their faces that's very calming to them," MacDougall said. "It really helps the parents feel supported.
The parents feel like you're in this together. It makes the living room an extended classroom. It's a visual reminder that we're still there."
It works, too. That's why there were 20 students on a two-way video Zoom conference call Tuesday with Duff Elementary fourth-grade teacher Paige Kilpatrick. The main goal for that call? Having the students sing the fourth-grade class song. They may have been a little out of tune and practice, but it was a reminder to the students that they're still a class and in the closure together.
Tammi Niekamp is a parent with two students in the district. Her son Cameron is a senior at Martin High School and keeps tabs on his friends on a regular basis, which is easier for older students to do through all sorts of apps. But Niekamp's youngest son Chase is a first grader at Little Elementary and doesn't have the same access.
His best friends are his classmates. But the closure has eliminated most of that interaction. His teacher Heather Bush has made sure that's not the case with several video chats, including one for the entire class just to wish one of the students a happy birthday.
It's made a huge difference for both Chase and his mother.
"His face lit up the first day they did it," Tammi said. "It made all the difference in the world. Seeing his teacher and classmates face-to-face was the best thing for him. They need the interaction and the reassurances. That was the best thing about it is she's just making sure they'll all okay."
Engebretson reaches out to parents before she sets up her conferences to set them up. She also does them in the evenings so it's easier for the parents to help their children navigate the technology involved. She's done several now and has seen participation go up as she's done more.
Like many teachers in the Arlington ISD, Engebretson uses Class Dojo to connect with students and can make videos they can watch. But it's hard to replacing seeing faces.
"You really want to just be able to set the tone for them in a positive way," she said. "We want to focus on good things. We share random things. It's all about keeping those relationships established."