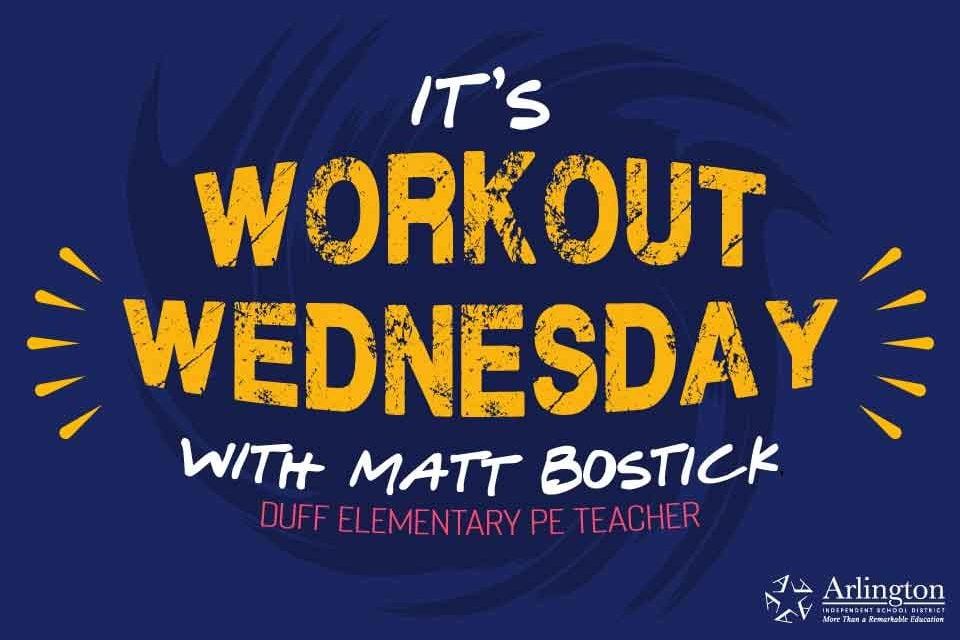 Arlington ISD Kicks Off Workout Wednesday To Teach Kids How To Stay Fit At Home
The new At-Home Learning Hub provides Arlington ISD students an opportunity to engage in learning activities during the school closure and work their minds.
But what about their bodies?
That's covered, too, thanks to Arlington ISD's Workout Wednesdays featuring Duff Elementary physical education teacher Matt Bostick. Every week during the closure, Bostick will show you short workout videos that he does with his students at Duff. The exercises are designed so you can practice social distancing, doing them in your living room, driveway or backyard.
The exercises can be scaled down for younger students and ramped up for older students and adults. Do three sets of these, and you'll be in tip-top shape when we return to school. Each week's workout routine will also be included so you know exactly what Bostick is doing.
Here's what Bostick has you doing during Week 1 (three sets each)
20 Jumping Jacks

20 Air Squats 

30 seconds – Plank (high or low)

30 Mountain Climbers
Arlington ISD is committed to growing whole and well-rounded young adults who are prepared to excel in college, career and beyond. The district's mission is that every one of its more than 57,000 students will graduate exceptionally prepared for college, career and citizenship. With top educators, an outstanding core curriculum, a growing number of specialized programs and state-of-the-art facilities, the opportunities for all students from pre-K through high school are endless.