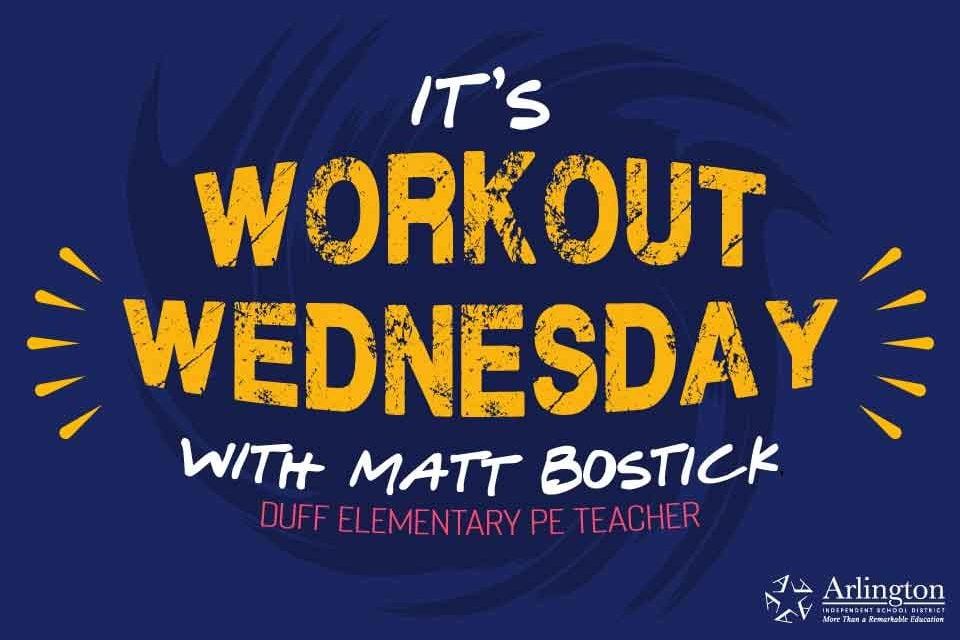 Arlington ISD's Matt Bostick Gives Meaning To AMRAP In This Workout Wednesday Edition
Last week, Duff Elementary physical education teacher Matt Bostick introduced many to a new word with Tabata for Workout Wednesday.
For this week's Episode 7, Bostick is at it again. It's AMRAP time. While it might sound like a cool phrase when you say it really fast, it's not for the workout faint of heart. AMRAP stands for as many repetitions as possible.
So be prepared to buckle up this week as Bostick wants you to set a timer for 10 or 15 minutes and do as many of these four exercises as possible. It's a great break during your At-Home Learning Hub work.
Here's the plan for this week
Week 7 workout (AMRAP, set a timer for 10-15 minutes and do as many repetitions as possible):
5 hand release push-ups

10 lunges

5

 

sit-ups

10 air squats
If you want to get caught up on any of the earlier Workout Wednesday videos, you can find all the information on the district's YouTube page here.
Arlington ISD is committed to growing whole and well-rounded young adults who are prepared to excel in college, career and beyond. The district's mission is that every one of its more than 57,000 students will graduate exceptionally prepared for college, career and citizenship. With top educators, an outstanding core curriculum, a growing number of specialized programs and state-of-the-art facilities, the opportunities for all students from pre-K through high school are endless.