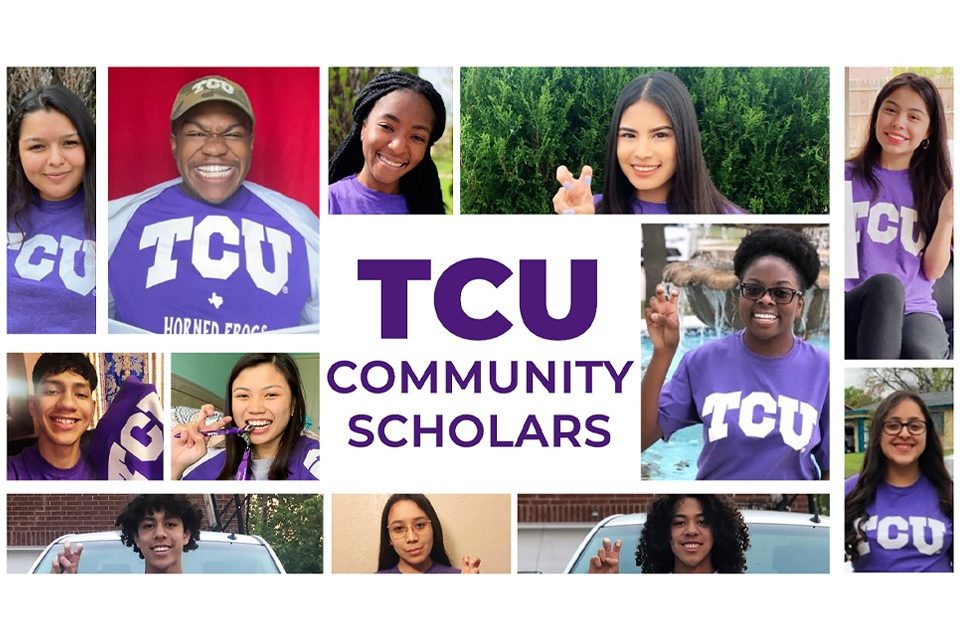 Sam Houston's record 13 TCU Community Scholars find a reason to celebrate amid uncertainty
Not getting to experience the traditional surprise-style announcement doesn't mean this year's TCU Community Scholars from Sam Houston High School aren't going to remember their big moment.
Instead of being in an auditorium full of cheering classmates, music and balloons, Anderson Nguyen FaceTimed his twin brother Brandon.
Kymvely Calderon was at work, and Rigoberto Garcia was at the bank.
Maria Mendoza forgot the password she had entered into her Frog Portal numerous times, and Nichole Fashakin took a one-minute breather before scrolling down.
All of the 13 full-ride scholarship recipients – the most ever at Sam Houston – immediately started celebrating from the big news, even if it was not in the way they were expecting.
Surreal, Scared, Surprised
But, then again, nothing has really been ordinary about a senior year that included an extended school closure – and then news that campuses are closed for the rest of the 2019-2020 school year – because of COVID-19.
"I started screaming after I read the first five words," said Brandon Nguyen, whose brother Anderson was also a TCU Community Scholar. "It was so surreal to me. My heart was pumping, and I was shivering."
Mendoza was scared to even click on the link.
"The first three words I read were 'TCU Community Scholar,'" Mendoza said. "I threw my phone to the grass and started running around the backyard and ended up on the ground crying."
$3.1 Million in Scholarships Awarded
Sam Houston's 13 TCU Community Scholar recipients will each get a full-ride scholarship to TCU valued at $260,000 which includes room, board, tuition, books and a semester abroad. Sam Houston is one of 13 schools that participate in the Community Scholars Program at TCU, and, year after year, Sam Houston has the most Community Scholars from a single campus in the program. (Brad Flick was added as a TCU Community Scholar recipient in early May, bringing the total to 13 TCU Community Scholars for Sam Houston.)
And that kind of news – that kind of burden relieved and made official – has been a bright spot for these students.
"With COVID-19 happening right now and senior year ending in an unpredictable way, I am grateful for this scholarship and knowing I have something to look forward to in the fall," Georgina Perez said.
Brandon Nguyen felt a "surge of happiness" and the news made Mendoza see "there's always positive things in the negative, which really boosted my spirit and lightened my mood overall."
Role Models for the Next Generation
All of the students acknowledge how much of a relief a full-ride scholarship is. And many said they are proud to be role models for the next generation of TCU Community Scholars from Sam Houston.
"I feel like I am representing the Hispanic community at TCU, which makes me proud," Mendoza said. "Being a first-generation student, they look at me like I'm a role model. [My parents] are just so proud, and they told me I represented all the Hispanics who believed they couldn't get an education. That makes me really proud of who I am."
Kenia Martinez, also a first-generation college student, already knew she was going to have to work extra hard to get some or all of her college paid for to take the financial burden off her family. Screaming and dancing was her reaction to the news after what she called a "rough" few years working to accomplish a full-ride.
"Going to TCU, I know there's people who do truly care about me and my education and who will be there available to guide me through this journey," Martinez said.
And, when life gets back to normal and social distancing is a thing of the past, they'll also find a way to celebrate.
2020 TCU Community Scholars from Sam Houston High School
Joshua Anderson
Sharon Arthur
Kymvely Calderon
Nichole Fashakin
Brad Flick
Rigoberto Garcia
Pamela Guerrero
Megan Ha
Kenia Martinez
Maria Mendoza
Anderson Nguyen
Brandon Nguyen
Georgina Perez