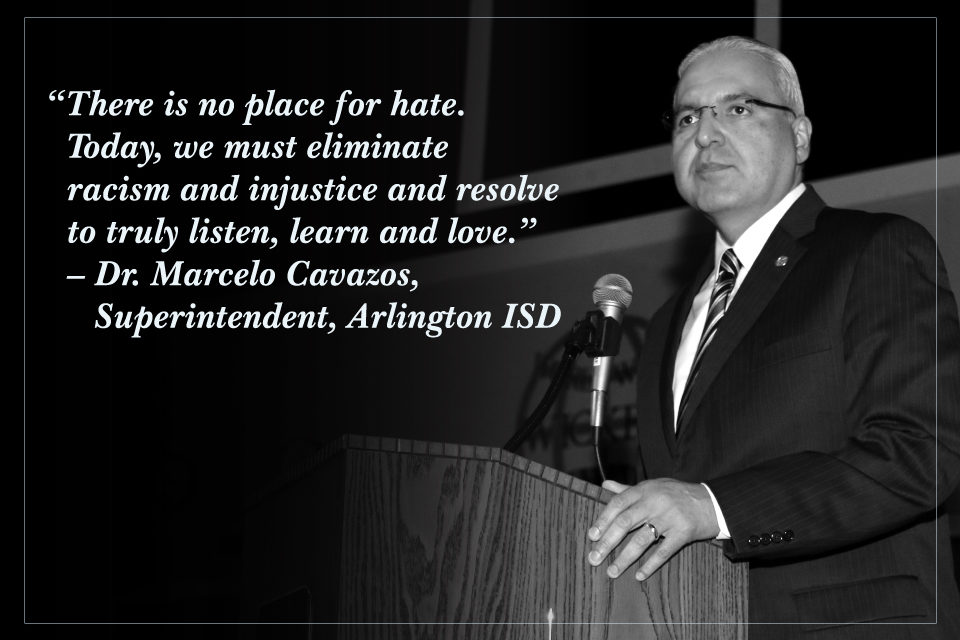 A Message on Racial Injustice from Dr. Marcelo Cavazos, Superintendent, Arlington ISD
I am saddened by the events that are taking place in our country. Simply put, there is no place for hate. We must eliminate racism and injustice. As your Superintendent, I commit to taking every possible action to continue teaching our students to be problem-solvers for complex issues that we face now and into the future.
I have been fortunate to see many of our students accomplish great works including earning certifications, associates degrees, meaningful employment and more. Many of our students have overcome incredible odds, including racial injustice, and that is why I remain hopeful that we can improve as a country and learn from our young people who have a clear and resilient sense of justice.
We must truly resolve to listen, learn and love to make genuine change. It is not an easy task but one that I know is possible. I look forward to working next to you to make lasting change that improves the future for all of our students. Together, we can create a better and just world for our children.
Sincerely,
Dr. Marcelo Cavazos
Superintendent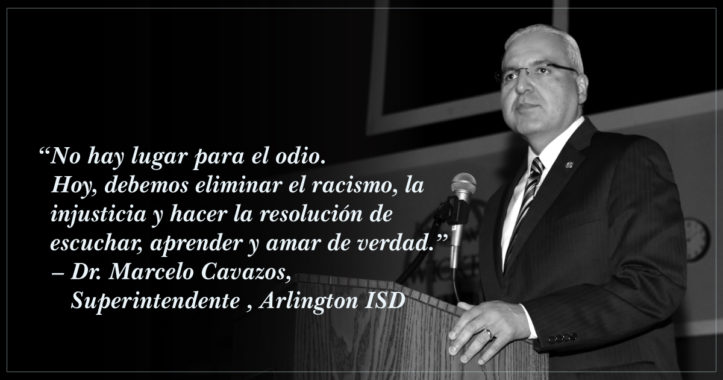 Un mensaje sobre la injusticia racial del Dr. Marcelo Cavazos, Superintendente, Arlington ISD
Me entristecen los acontecimientos que están sucediendo en nuestro país. En pocas palabras, no hay lugar para el odio. Debemos eliminar el racismo y la injusticia. Como su superintendente, me comprometo a tomar todas las medidas posibles para continuar enseñando a nuestros estudiantes a resolver problemas para que puedan enfrentar problemas complejos como los que estamos viviendo ahora y lo que pueda suceder en el futuro.
He sido afortunado, he visto a muchos de nuestros estudiantes realizar grandes trabajos, incluyendo obtener certificaciones, títulos de asociado, empleo significativo y más. Muchos de nuestros estudiantes han superado dificultades increíbles, incluida la injusticia racial, y es por eso que tengo la esperanza de que podamos mejorar como país y aprender de nuestros jóvenes que tienen un claro y fuerte sentido de la justicia.
Realmente debemos resolvernos a escuchar, aprender y amar para hacer un cambio genuino. No es una tarea fácil, pero sé que es posible. Espero con interés trabajar a su lado para lograr un cambio duradero que mejore el futuro de todos nuestros estudiantes. Juntos, podemos crear un mundo mejor y justo para nuestros hijos.
Atentamente,
Dr. Marcelo Cavazos
Superintendente