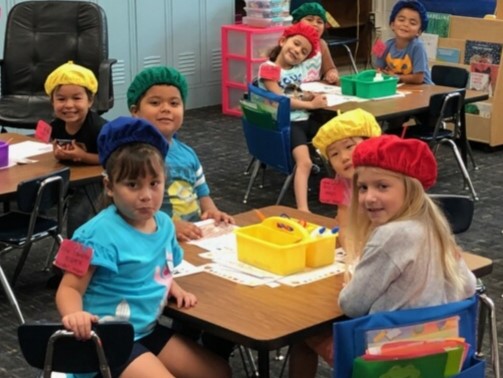 When French teacher Matthew Nelson was looking for a new place to work over the summer, he had no idea of the kind of setting he'd be able to find at the Wimbish World Language Academy.
"I was searching for a program like this," said Nelson, who taught in Fort Worth before coming to the Wimbish World Language Academy. "You just don't find something like this in public education. This is the type of program that is usually reserved for a private education. I don't know another program that does integrated dual language with French immersion on a public level."
Trampolines – Not Just for Recess: 
Immersion in Nelson's class starts when the day begins. His kindergarten students literally bounce into his classroom, greeting one another at the door before bouncing on a mini trampoline and counting to 10 in French with ease.
That's just part of the experience at Wimbish World Language Academy, which opened in the fall with students in pre-K, kindergarten and first grade splitting their days between either a French and English track or a Spanish and English track. Next year the program will expand to second grade with the school adding another grade every year.
Immersion Matters: 
At Wimbish World Language Academy the students aren't just learning another language like an elective either. When Nelson said immersion, he was serious. The students spend their math and social studies periods learning the entire lesson in the foreign language they chose – either French or Spanish.
Those lessons are then integrated into the English-speaking classes. That's all part of the plan.
"We're not talking about being bilingual," principal Delisse Hardy said. "We want to be biliterate. We're also talking about biculturalism. All of that goes into it. We have all those cognitive benefits of being bilingual. When you're bilingual you're also talking about more opportunities. It's not just about coming here and learning French."
Hello, Hola and BonJour: 
WWLA opened with more than 150 students in the three grades either on the French/English or Spanish/English tracks. Students in other grades are also taking a foreign language class. Next year the students starting in second grade will have the opportunity to add Mandarin Chinese to their repertoire and learn a third language.
The WWLA students are loving the school experience.
"My mom really wanted me to learn three languages," said Javier A., who came to Wimbish World Language Academy from Webb Elementary. "I already knew Spanish and English and she wanted me to learn French. You can go a lot of places where people are speaking different languages and learning French has been the best part of being here."
Creating Global Experiences: 
That global experience is why Nathaniel F. wanted to come to Wimbish World Language Academy.
"There are so many people from different countries coming to America," the former Swift Elementary student said. "A lot of them are Hispanic, especially in Texas. This makes it easier to communicate. I'll also be better prepared when I go to other places. I want to be fluent."
While the focus at WWLA is developing 21st-century learners, it's a little more personal for fourth grader Jacquelyn R., who came to Wimbish World Language Academy from McNutt Elementary. She wants to eventually learn French but right now she's taking Spanish. The biggest benefit is it makes it easier for her to talk with her parents, both of whom are from Mexico and mainly speak Spanish.
Coming to Wimbish World Language Academy has helped her bridge the language gap at home.
Even that fits into the 21st-century learning at Wimbish.
The Four C's: 
"Collaboration, communication, critical thinking and creativity," Hardy said. "We also have choice and culture. That defines our instructional model. This isn't just about learning another language and content."
You can explore more about the Wimbish World Language Academy and other specialized programs at Explore ArlingtonISD Saturday from 9 a.m. until noon at the Dan Dipert Career & Technical Center.