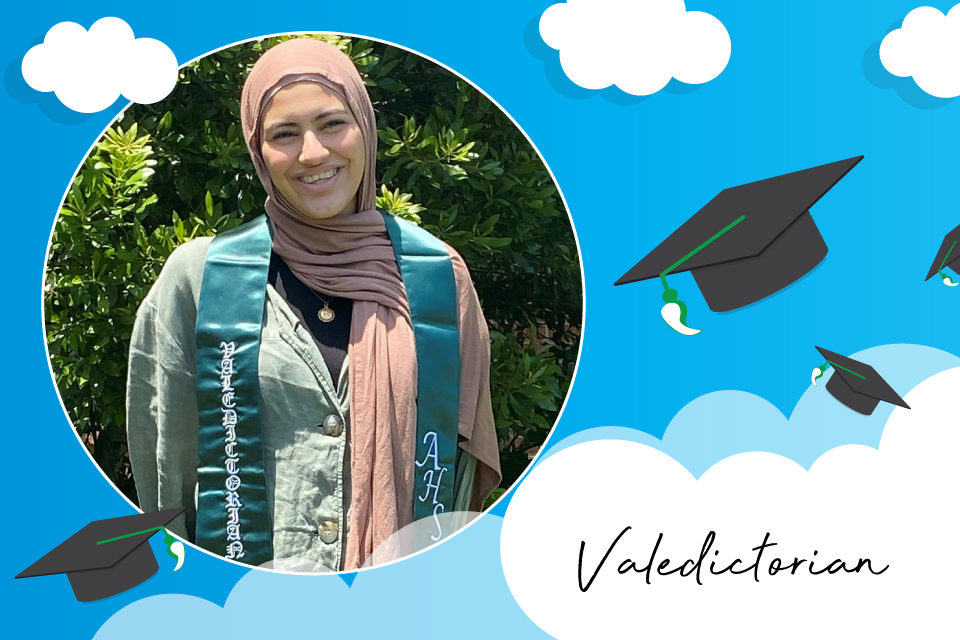 Farah Ahmad Shines as Valedictorian for the Class of 2020 at Arlington High School
In the weeks leading up to Arlington ISD graduations June 5, 6 and 7 at AT&T Stadium, we will be celebrating the Class of 2020 valedictorian and salutatorian for all seven Arlington ISD high schools.
Four Questions with Arlington High School Valedictorian Farah Ahmad
College attending: University of Texas at Arlington
Intended major: Industrial Engineering
Attended Arlington ISD schools since: Pre-K
What have you learned about yourself through the COVID-19 closure?
I have learned that I have more intrinsic motivation than I had previously believed.
What have you learned about education through the COVID-19 closure?
I have learned that having a formal education in a school setting is a privilege that I took for granted. I have also learned that education does not just mean the purely academic work, but the numerous insightful discussions that occurred in my classes that have educated me more than any online video could.
What meaningful moment, lesson or memory will you take from the COVID-19 closure?
I will definitely take away that no matter how hard I try or how much I plan, I am not in control of anything. But I've also come to realize that is okay.
What
would you like to say to the Arlington High School Class of 2020
?
Dear Class of 2020: Your hard work was not for nothing. While it may seem like every tear you shed, every hour spent studying and every alarm that woke you up never amounted to anything, it did. Despite not having those final moments of senior year that we all looked forward to so much, we did ultimately get here and that means something in itself. So please don't be discouraged or think that none of it was worth it because undeniably we had a senior year that we will never forget