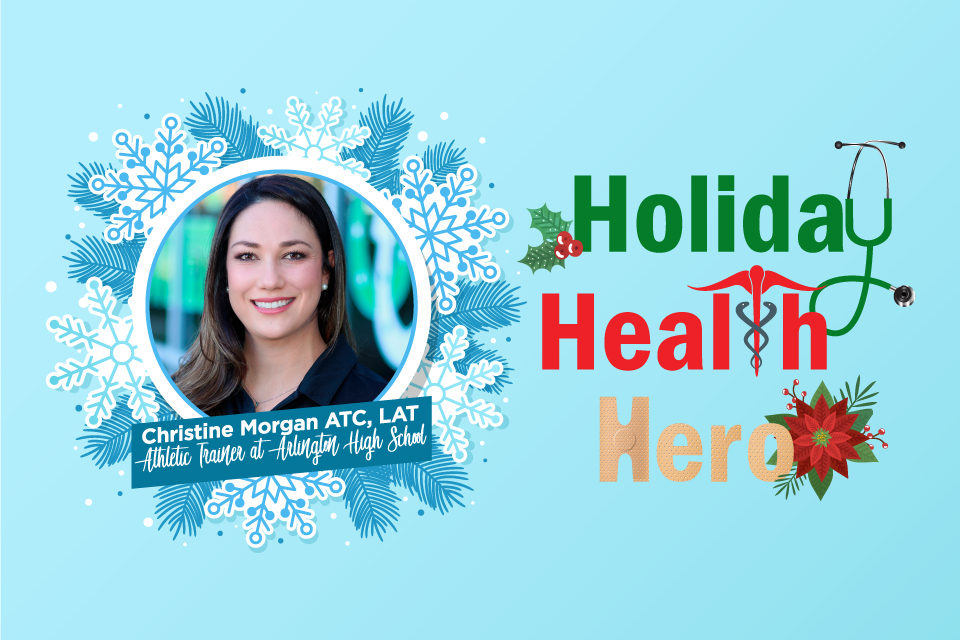 Social distancing biggest challenge for athletic trainer
The Arlington ISD wanted to take some time over the winter break to honor a group of employees that has been thrust into the spotlight in 2020 like no other year before, our health workers. So we've decided to celebrate our Holiday Health Heroes by spotlighting several of them. Today we're catching up with Christine Morgan, who is the athletic trainer for Arlington High School and has been with the district for eight years.
〉What's been the most rewarding part about working through the pandemic?
Many students and student-athletes have felt lost throughout the pandemic. Being able to help keep our student-athletes healthy and work to get them back on the field, in the gym or on the court to feel that sense of belonging and normalcy has been the most rewarding. Our student-athletes are showing up every day for each other, and themselves, knowing we're all still struggling with something in our own lives.
〉What's been the most challenging part about working through the pandemic?
Working as an athletic trainer in a high school while my husband works as an athletic trainer in a clinic, I know there are situations that could potentially put us at risk to be exposed. With three nieces born during the pandemic and family with health issues, we have tried to be very cautious and limit the times we are all together. My family and I are extremely close and not being able to celebrate special occasions, holidays or spoil those sweet babies has been difficult to accept.
〉What's been the biggest adjustment you've had to make throughout this time?
Social distancing has been the biggest adjustment and challenge for me throughout this pandemic. I am a people person and a hugger, so not going out to see family and friends is hard for me. At work, I try to be involved and hands on when working with an athlete during therapy. Even when we aren't busy, the training room is a place where athletes can just come hangout and talk to decompress after practices or talk about issues they may be going through. Now, to follow the guidelines, we have limited the amount of people and the amount of time they can be in the athletic training room. We still try and create these opportunities for our athletes, but it's just not the same.
〉When the stress of the job gets to you, what have you done to cope?
I am lucky enough to work with amazing coaches who are always willing to help or listen when I need someone to bounce ideas off. I also was able to finish some 'quarantine' projects, so relaxing by our new fire pit on the weekends has been amazing.
〉What have you learned about yourself working though all of this?
I have learned that I am able to adapt to change and roll with the punches, which seemed to be daily at one point, and continue to grow in myself and our profession when put in uncomfortable positions.
〉Do you consider what you've done this year as heroic and why or why not?
I don't think I would use the word heroic when I'm talking about myself or doing my job because, for me, it's just what is expected from our profession. To be honest, I am not sure if you ask any athletic trainer this question that they would say yes. We hold each other and ourselves to a high standard and because we have such pride in our profession, we want to do everything we can for our athletes and patients. I love the staff and students I work with. Doing what I can to make sure they are safe and healthy is what I strive for every day. But, when I think about my fellow ATs in the district and the profession, I know they are going above and beyond trying to keep their staff, athletes and families safe. Sometimes that means being a parent to some of these kids who may not have anyone. Sometimes it is sacrificing more time with their loved ones than they already are. To me that sounds pretty heroic.
〉What are you looking forward to most during the winter break?
Spending quality time with my husband, hoping to spend some time with my nieces, and indulging in all things Christmas.