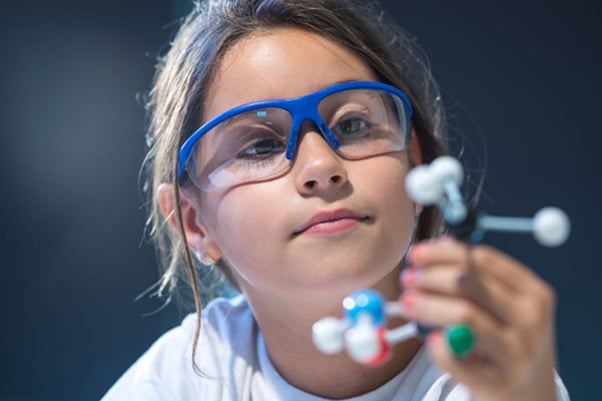 Students coming to Pearcy STEM Academy don't go to class thinking about the 3 Rs their parents grew up studying.       
The STEM experience allows them to do a little deeper thinking.
STEM Starts with Big Dreams
"I have big dreams," Pearcy sixth grader Jayden Y. said. "I see a lot of problems in the world. I know STEM can help me get a start at it. This can give me things I need to know so I can develop my own technology to change the world."
For Jayden, those dreams revolve around stopping climate change. Classmate Jonathan M. is focused on building things. Another classmate, Aisha M., wants to figure out how to incorporate STEM into her hopes of becoming a chef.
All three students – part of the first sixth-grade class at the Pearcy STEM Academy – have big dreams that revolve around STEM. They are in the right place as the Pearcy STEM Academy fosters a culture where thinking about how to fulfill those dreams is possible. The academy, which opened this fall, is unlike any other elementary school in the Arlington ISD and is just one of a handful of schools like it in the state or country.
Pearcy is the first elementary STEM-certified campus in the district, the ninth in the state and only the 19th in the nation to achieve that recognition.
STEM Certified Campus
The STEM program at Pearcy started this fall with students in fourth through sixth-grade students. For the 2020-21 school year, the program will expand, adding second and third grade to the STEM practice.        
The emphasis at Pearcy is on life-ready skills and problem solving embedded in math and science classes.
"We're talking about taking what we've learned here and now learning about it in the real world," Pearcy STEM Academy principal Codi Van Duzee said. "We aren't talking about math by itself or science by itself. Everything is integrated. What they're doing is having an impact."
Hear from three 6th Graders Excited About STEM:
And it's an impact that students at Pearcy STEM Academy experience from day one. Sixth graders on the first day of school were using laptops to program Legos to open and close as part of a waterway management program. In fourth grade, they were building Ferris wheels on the first day.
Later this year the sixth graders will start a 10-week program with UT-Arlington's architecture department for a Freedom By Design project to work in city planning.
That news got Jonathan M. excited.
"We know how to transfer electricity through circuits," said Jonathan, who started school at Fitzgerald Elementary but found out about the new STEM program at last year's Opportunity AISD event and knew it was the place for him. "But how are you going to do that with a house?"        
Jonathan isn't the only one learning about the impact STEM can have on the campus. Pearcy already has six teachers who are nationally certified STEM teachers and more are training in the graduate-level program so they can better facilitate learning in a STEM modality.         
The teachers know the goal is to put the students in the best position to excel.       
"STEM is the way," sixth-grade teacher Gina Parker said. "As you get into higher education, we need them to be prepared for what's coming. These kids are technology smart. It's not just using it, it's giving thought to the technology they are using. They don't play the game. They think about writing the game and coding the game. The STEM effect lets them take it to the next level. It's not about being the user, it's about being the producer."            
Register to Attend Explore AISD: 
Explore more about the Pearcy STEM Academy and other specialized programs at Explore AISD Saturday, Sept. 21, from 9 a.m. – Noon at the Dan Dipert Career & Technical Center. 
A meeting for parents will be held at Pearcy STEM Academy on September 30 from 6 p.m. – 7:30 p.m. at 601 E. Harris Road, Arlington.