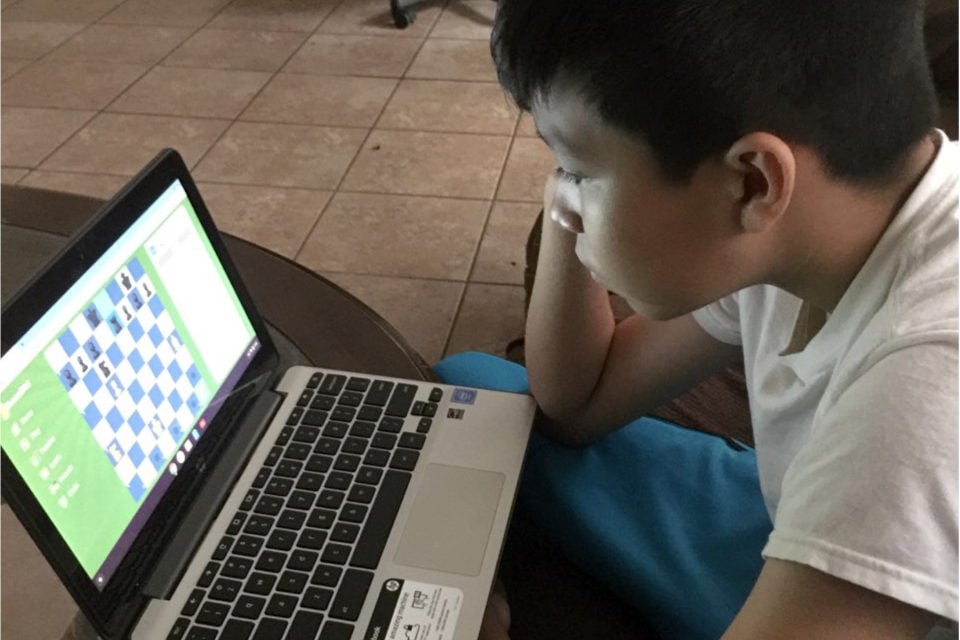 Arlington ISD Elementary Schools Compete In First Ever Virtual Chess Tournament 
This is the time of year where chess action between Arlington ISD elementary schools normally picks up.
Of course with the school closure because of the coronavirus, students know nothing is normal about what's happening around them.
But that didn't stop the chess competition.
On a weekend when Butler Elementary was scheduled to hold a huge chess tournament, a tournament happened nonetheless with chess players from Atherton Elementary, Butler Elementary and Thornton Elementary as well as a few Sam Houston High School students squaring off. The only difference was instead of sitting across from each other they were at their homes playing online at chesskid.com.
There were a few technology glitches along the way, but that didn't take away from the event.
"It was a fun diversion," said Atherton librarian and chess sponsor Luther Cobbey. "I met with my students. We met a couple of times online with Zoom to try and make sure every one could do it. It was just a great opportunity for them to be able to see their friends."
It was a normal chess tournament with winners and everything. There were some things different. Players didn't necessarily know who they were going against, only their screen name. And there was no awards ceremony when it was over.
But it was normal enough, and that made the virtual chess tournament well worth it.
"Having a tournament here is kind of a tradition," said Butler principal Jennifer Bohannon, who helped get the Butler students lined up. "For us, we promoted it as a safe way to have a sense of normalcy for the kids. It promotes the same normalcy they do when we have our tournament. That was kind of our take on getting the participation. We wanted them to see they could have a special event."
While it wasn't as big as the face-to-face tournaments are, there was still around 60 players online. Andrew Walley, the sponsor at Thornton, talked to Cobbey about the idea after visiting with a private coach for one of his students.
Thornton and Atherton had access to the program thanks to a grant they received a couple of years ago. Their teams were familiar with it from lessons and watching videos. The sponsors tested out the tournament feature and liked it. Parents helped sign their children up, and the tournament went from there.
"I think it was really pretty neat they got to see their friends," Cobbey said. "Most of them have been to tournaments before, normally they're all day long on Saturdays. They're used to matching up against each other. During the school year, there is a tournament every week or two and my kids go about three or five times a year."
Now that the first tournament is over, the plans are already in place to see what's next. Cobbey said the goal is to get more tournaments going once they work out some of the kinks. They also want to get more students involved, including at the high school level.
Thanks to the closure and students staying at home, they have captive audiences on the weekends. Regardless of where the first tournament leads, there's no denying it was a success.
"It's about being able to provide for the kids," Cobbey said. "We accomplished that. They're used to playing chess, and they played chess. We're going to wait and week or so and see where this leads."