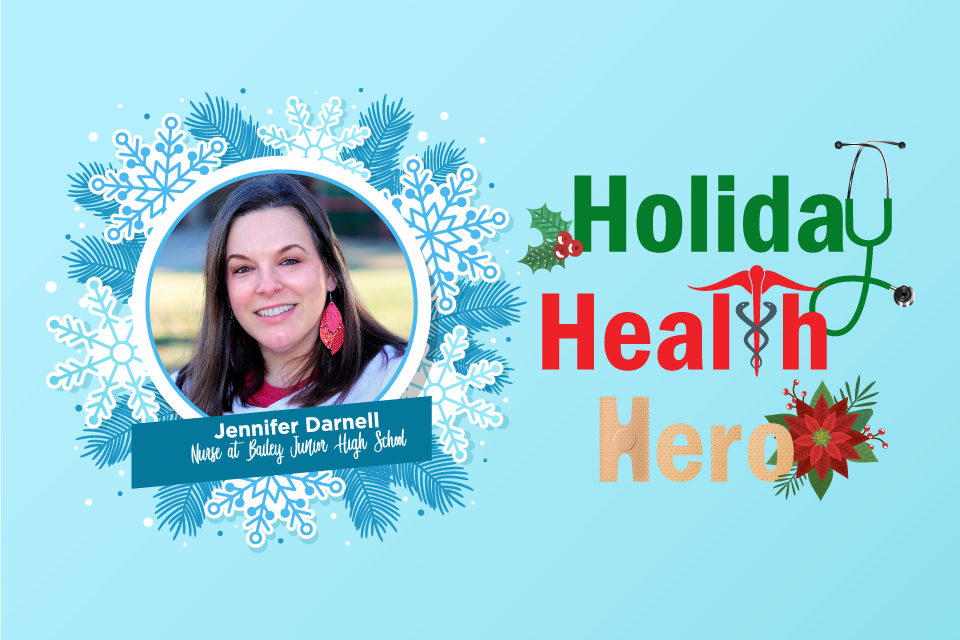 Chocolate helps school nurse cope with COVID stress
The Arlington ISD wanted to take some time over the winter break to honor a group of employees that has been thrust into the spotlight in 2020 like no other year before, our health workers. So we've decided to celebrate our Holiday Health Heroes by spotlighting several of them. Today, we're catching up with Bailey Junior High school nurse Jennifer Darnell, who has been with the district for 14 years and is an Arlington ISD parent.
〉What's been the most rewarding part about working through the pandemic?
Getting to actively work for the better of the community on a larger scale, providing education and support for my staff and students and their families in such a difficult time. Information is flying at us at warp speed and being the calm voice in the storm for my community is rewarding.
〉What's been the most difficult part about working through the pandemic?
Working around the clock, evenings, weekends and holidays. It's like you're never "off." Also, when someone turns up positive and you have to call people and give them the devastating news that they are a contact of someone with Covid-19 hurts my heart.
〉What's been the biggest adjustment you've had to make throughout this time?
Balancing family life and school life.
〉When the stress of the job gets to you, what have you done to cope?
Eat chocolate.
〉What have you learned about yourself working though all of this?
I am a super strong person but that sometimes it is okay to cry a little. Reaching out to my nursing peers has been really helpful as well. We are all doing the best we can and sometimes you just need someone who understands to listen.
〉Do you consider what you've done this year as heroic and why or why not?
Heroic, no, but it has really reminded me of why I became a nurse and have a passion for community-health nursing. My fellow Arlington ISD nurses are my heroes, especially the high school nurses and our health service director, Annette Minnerly, and her three resource nurses, Sarah, Pam and Ronda.
〉What are you looking forward to most during the winter break?
A nap and some much needed quiet family time! But let's get real, COVID doesn't stop just because school does. 😉