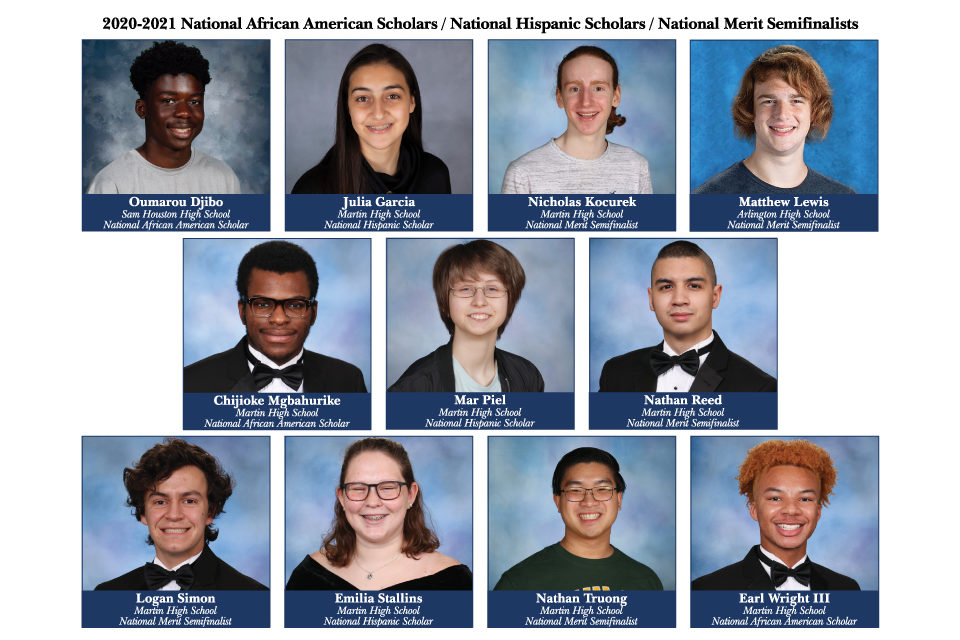 Students to be honored at Board meeting
Martin High School senior Nicholas Kocurek didn't want to be outdone by his father. His classmate, Nathan Truong, wanted to honor his parents for all their work in immigrating to the United States from Vietnam. Arlington High School's Matthew Lewis got his drive to succeed from his parents, too.
Whatever the motivation, those three, along with eight other Arlington ISD students, have reached incredible academic heights as they are part of a class of 11 district seniors who were either named National Merit Semifinalists, National Hispanic Scholars or National African American Scholars.
The 11 students will be honored Thursday night at the district's Board of Trustees meeting.
 This is one of my favorite events of the year," Arlington ISD Superintendent Dr. Marcelo Cavazos said. "These students have set such a high bar and have been able to reach those goals. It's an incredible accomplishment."
National Merit Semifinalists
The district has five National Merit semifinalists. Nationally there are 1.5 million students who take the PSAT as 11th graders, and only 16,000 of those are named semifinalists. This year, Kocurek, Truong and Lewis are joined by Martin's Nathan Reed and Logan Simon as the district's five semifinalists.
For Simon, the honor gives him some bragging rights with his friends.
"I'm lucky to have a group of very smart friends who all compete with one another, and trying to get National Merit felt like another competition with them," said Simon, who started in the Arlington ISD in first grade and plans to major in computer science in college.
Reed, who may end up working for the Arlington Police Department, is well on his way to earning the college degree needed. He's already racked up 56 hours of college credit as he's likely heading to Stephen F. Austin for college.
National Hispanic Scholars
In addition to the five National Merit semifinalists, there are also three National Hispanic Scholars being honored, all three coming from Martin.
Julia Garcia, Mar Piel and Emilia Stallins are part of 5,000 students nationally who have been recognized by the National Hispanic Recognition Program. The program identifies outstanding Hispanic students.
All three of the Hispanic Scholars got their starts early in the district, either starting in kindergarten (Garcia and Piel) or first grade (Stallins). Piel said he wants to pursue a career in video game development while Stallins has her eyes on being a pharmacist. Garcia, who plays basketball at Martin, recently got accepted at Texas A&M. She plans to major in aerospace engineering.
National African American Scholars
The scholars' program has expanded, and this year the district is also honoring three National African American Scholars. The Jackie Robinson Foundation is the adviser for the African American Scholars program.
Like the National Hispanic Scholars, students take their PSAT as juniors and must meet a qualifying score, have a GPA of 3.5 or higher by the middle of their junior year and identify as African American.
Sam Houston's Oumarou Djibo is one of the district's honorees, along with the Martin duo of Chijoke Mgbahurike and Earl Wright III.
The medical field could be the beneficiary of two of the three honorees. While Mgbahurike has his eyes set on the tech startup field, it's careers as doctors that have the other two's attention. Djibo, who started in the Arlington ISD in Pre-K, wants to be a cardiac surgeon. Wright also wants to be a doctor and believes his Project Lead the Way biomedical science classes have helped put him on the right path.
"The biomed hallway of Martin High School has never failed me, acting as my scientific playground and my home away from home," Wright said. "From dissecting a brain to triaging patients in my very own emergency room, not only has my time spent in those four walls held onto my attention during every fleeting moment, but it also has shined a light on the path that I walk towards my future career endeavors in the field of medicine."