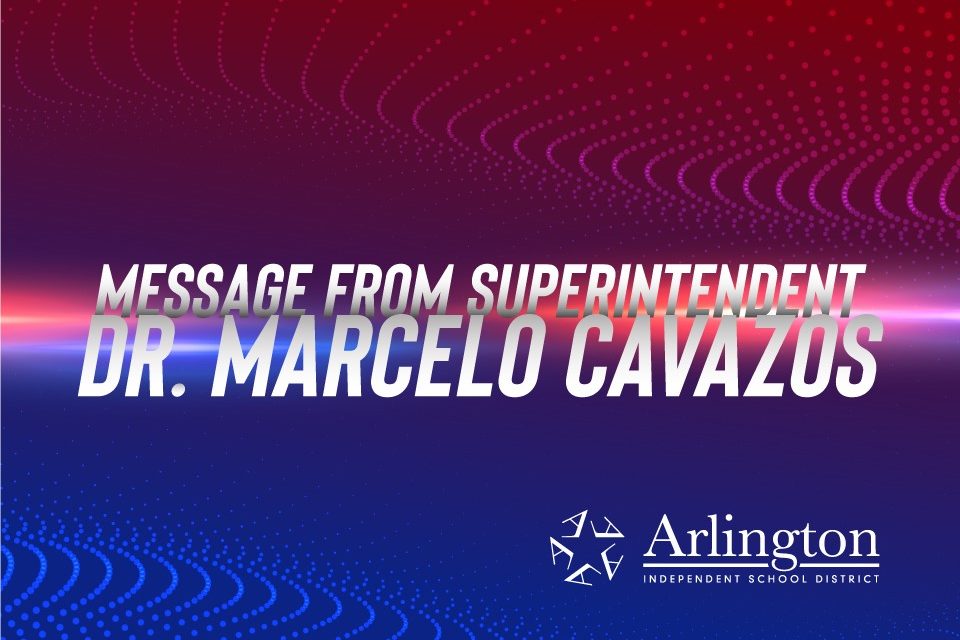 The Honorable Greg Abbott, Governor
State of Texas
1100 San Jacinto Blvd Austin, TX 78701
July 16, 2020
Dear Governor Abbott:
On behalf of the Board of Trustees and the Arlington ISD, we thank you for your leadership throughout the global COVID-19 health crisis. The comments you made Tuesday that local districts need flexibility to determine schedules for in-person learning this fall were particularly welcome news. As you continue to make critical decisions about the 2020-21 school year, we ask that you authorize the following provisions:
authorize flexibility for school districts to adjust their in-person schedules,
expand the hold harmless provision for funding that has already been announced
suspend the state accountability system
In April you made the difficult decision to close all schools to in-person learning for the remainder of the 2019- 20 school year to help reduce the spread of COVID-19. The school and business closures ordered by your office were successful in containing the virus. Unfortunately, infection rates have surged above 16% since restrictions were eased in June. The infection rate was 13.5% in Tarrant County last week and continues to climb. County health officials report difficulty tracing contacts at the current rate of spread.
School districts across the state are actively planning for the upcoming school year. The Texas Education Agency published several guidance documents recently addressing attendance, enrollment, state funding, remote learning and safety measures for the 2020-21 school year. The guidance requires districts to offer parents the choice of in-person instruction for their children. Districts can choose to also offer remote instructional learning opportunities, but state funding will flow only if districts offer in-person instruction. In- person learning can be ramped-up for the first three weeks of the school year, but districts cannot limit the number of students in their buildings following the first three weeks. A very limited grace period is provided to hold districts harmless from funding loss due to low attendance in the first two six-week periods of the school year. Academic accountability ratings will be assigned.
The return to school guidelines issued by TEA are problematic for the following reasons:
Without the ability to control the number of students served in-person, we cannot safely distance students on buses or in our classrooms, cafeterias and other support spaces. Students, teachers and support staff will attend school at great personal risk, and the rate of community spread will certainly increase. Daily screening measures and modified operations intended to reduce the risk of spreading the virus at school will significantly disrupt and compromise student learning.
The recent surge in positive COVID-19 cases in Texas, coupled with the lack of a vaccine or cure for the virus, strongly suggests that schools will experience attendance fluctuations and periodic closures throughout the 2020-21 school year, not merely in the first two six-week periods as suggested by the grace period provided for low attendance.
School districts will likely incur incremental costs throughout the 2020-21 school year, especially when operating both in-person and remote learning environments. Incremental technology, connectivity and curriculum development costs will be incurred to support remote learning. Health safety protocols for in-person learning, incremental cleaning and sanitizing and modified school schedules will be necessary and costly.
Due to disruption of instruction and assessments in spring 2020, state testing and the assignment of accountability ratings in 2021 will be counterproductive and divert attention away from instructional recovery efforts that will be required during the 2020-21 school year. Also, it is still unknown what additional adjustments to the educational process will be necessary to start the 2020-2021 school year to address the social, emotional, and physical health impact upon students when they return to school in whatever format that may be.
We are one large, interconnected community. Inserting 5.5 million students, faculty and staff into our schools will undoubtedly increase community spread of the virus. Increases in infection rates will quickly overwhelm our healthcare system, cost lives, force extended closure of businesses and ultimately extend the time required for Texas to move past this pandemic.
To help school districts address the unprecedented COVID-19 health crisis, we respectfully request that you authorize the following:
Give school districts flexibility to begin the school year entirely on-line and adjust their start date for in-person learning as appropriate, based on local health data. This flexibility will allow districts to make data-informed decisions to slow the spread of COVID-19 in our communities while concentrating their efforts and resources on a robust on-line learning system.
Allow districts to establish schedules to limit the number of students in their buildings once buildings do open.
Hold districts harmless for state funding based on enrollment reported in the fall 2019 PEIMS snapshot and the actual attendance percentage realized for the 2018-19 school year. A hold harmless on funding will help ensure that school districts operate appropriately and meet the changing needs of our students and families during this unprecedented global health crisis.
Suspend state accountability for the 2020-21 school year to allow school districts to focus on interventions necessary to recover instructional gaps resulting from school closures caused by COVID-19.
Arlington ISD has a large task force planning the various aspects of school operations for the 2020-21 school year in light of the COVID-19 pandemic. We are committed to delivering a robust instructional program for our students and implementing safety protocols to protect our students and staff. Flexibility to adjust the in- person instructional calendar and a hold harmless provision for funding for the entire school year will help us weather the crisis and return to a more normal operation as soon as possible.
We appreciate your leadership and your consideration of our requests to create a safe learning environment that allows us to concentrate on student learning. 
Respectfully,
Kecia Mays 
Board President
Dr. Marcelo Cavazos
Superintendent
C: Luis Saenz, Chief of Staff, Office of the Texas Governor