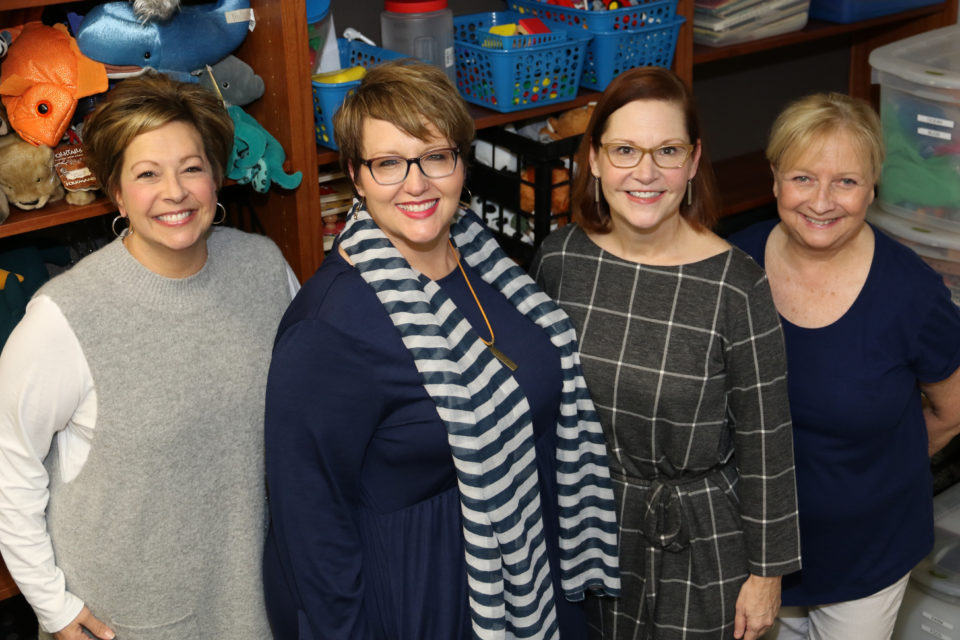 Students in the most unfortunate of situations in the Arlington ISD are lucky because they're in the most caring of hands.
That's the case for students who are part of the Homebound program, which is for students from pre-K through 18 PLUSS who will miss at least four consecutive weeks or four weeks in a school year for chronic illnesses. Whether the student has a bone in traction or battling cancer, being confined to home doesn't mean they're missing school.
The four Homebound teachers make sure that's the case.
A Unique Teaching Experience
"They are like our family," said S. Ashley Borton, who is in her first year as a Homebound teacher and her 26th in the district. "They're like our kids."
Unlike typical classroom teachers, the four Homebound teachers visit between six and eight students a week at their home and go over the lessons to help students keep up with their schoolwork. The Homebound teachers work in collaboration with the students' home campus as they are still tied to their home school and count on the school roll. Students get their lessons from their home campus teacher and then it's up to the Homebound teacher to work with the students through the lesson, normally in two weekly two-hour sessions.
"We're still teachers," said Stephanie Hudson, who is in her third year at Homebound and 20th in the district. "Just like I would when I was in the classroom you really have to get to know your kids. It's very personal in Homebound. You really have to get to know their strengths. I have one student and I know I can give her English, and she's got it. You have to know what you're working with like you're self-contained."
Building Strengths 
Just like students, the Homebound teachers have their own strengths and weaknesses.
Since there are only four of them and they have students of all ages to work with, they have to have at least some knowledge of all the subjects they're teaching from elementary math to high school physics. Sometimes that means extra homework for the teacher, too, as they observe classes when they can to help them know their subject better.
Technology helps, too, as some Canvas, Google and video lessons from the home campus can cover some of the lessons. That collaboration is huge to the program's success.
"We meet and collaborate with teachers," said department lead Julie Barganier, who has been with the Homebound program for the last 10 years. "We take their lesson plans and pare them down. Then the work is taken back to the campus and the teachers record it or grade it. Students finish assignments and get grades."
That's not all they do, either. Even though some students are limited by what they can do, there are breaks. Whether it's chair yoga, crafts, music or just hanging out, they try to put some fun into the experience.
While Homebound students have to be taken out of the program when the school year ends, if they are still sick the process can start back over in the fall. Barganier worked with one student for eight-straight years.
It's those kinds of bonds that make the program special. Diane Crowson taught in the district for 28 years and was a long-term sub last year. She had no intentions of coming back but teaching Homebound changed her mind.
She's not the only one.
It's a Calling
"It was a calling for me," Borton said. "I can tell you it's unlike any experience I've ever had, possibly the most rewarding. It's hard to put into words. It's a heartfelt, intense position."
Unfortunately it can also be a difficult one. There are times students are too sick to do their lessons. One student this school year has already died, too.
"We have spent the last day of a child's life with them," Barganier said.
While that's difficult on everyone, the reality is the students want as normal a life as possible. Having teachers come to their house is part of it because it makes them feel more connected to school where their friends and regular teachers are.
"The hardest thing for our kiddos, especially the older ones, is the isolation," Hudson said. "They are confined to their homes unless it's a doctor's visit. We're their connection to real life outside the illness. Very rarely do we have students who don't do their work. They want to be at school. They want to work. They want to have connections."
Lucky for them, they have the Homebound program.
Additional information about help for Homebound Students  is available on the Arlington ISD website.