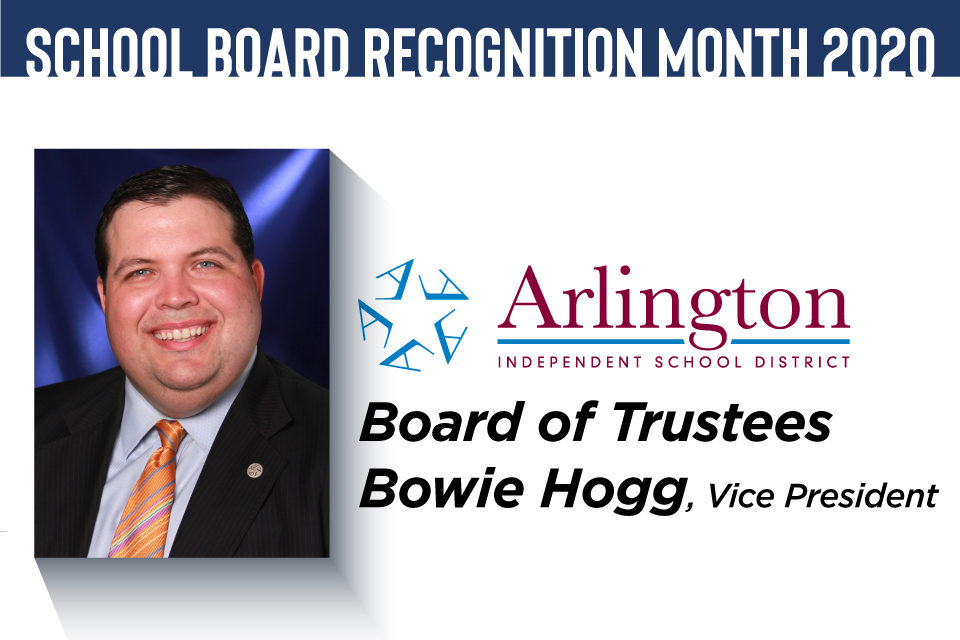 January is School Board Recognition Month, a way to honor the 7,200 locally elected school trustees in the state of Texas. This month, the Arlington ISD will help you get to know each member of our Board of Trustees a little better while thanking them for their service. VP Bowie Hogg reflects on his time as a trustee.
Vice President Bowie Hogg's Top 5 moments as an AISD Trustee
Sending my own daughter off to her first day of kindergarten in 2019: I have experienced this district for more than 25 years as a student in the district from Kindergarten until my graduation and now as a board member. But nothing beats taking your own child for the first day of school in the district you love knowing all the opportunities and endless potential she has.
My very first Teacher of the Year banquet: And, really, all subsequent teacher appreciation banquets I have attended. Seeing the pride each teacher has from all of our campuses motivates me and reminds me of the many reasons why I am a trustee.
Witnessing the first graduating class from Arlington Collegiate High School: Opening ACHS was just the beginning of transformational choices and increased opportunities we have been able to provide Arlington ISD students. Hearing from so many students who have taken advantage of the opportunities offered and how impactful it is to their future makes up many moments I will not forget and reminds me our students are experiencing education like never before.
Accepting the 2014 Outstanding School Board of Texas by the Texas Association of School Administrators award on behalf of the board: Being honored with this prestigious award and accepting it on behalf of all the students, teachers and staff in our district was an honor and enforced all the hard work that it takes from an entire community to transform a district. This came on the heels of many major changes in the previous years that all AISD students are now reaping the benefits of.
My very first all school assembly as a trustee: I accepted the offer and then had the pleasure of speaking to 900 kindergarten-through-sixth graders … for 20 minutes about the importance of voting. I look back on that day fondly, and it has made every other community speech much easier over the years. I mean, if I can keep the attention of 900 elementary students, I realized I can tackle anything, and it confirmed our teachers and staff have one of the most difficult but rewarding jobs in this country.
Thank you, Bowie Hogg for all you do. We honor you.