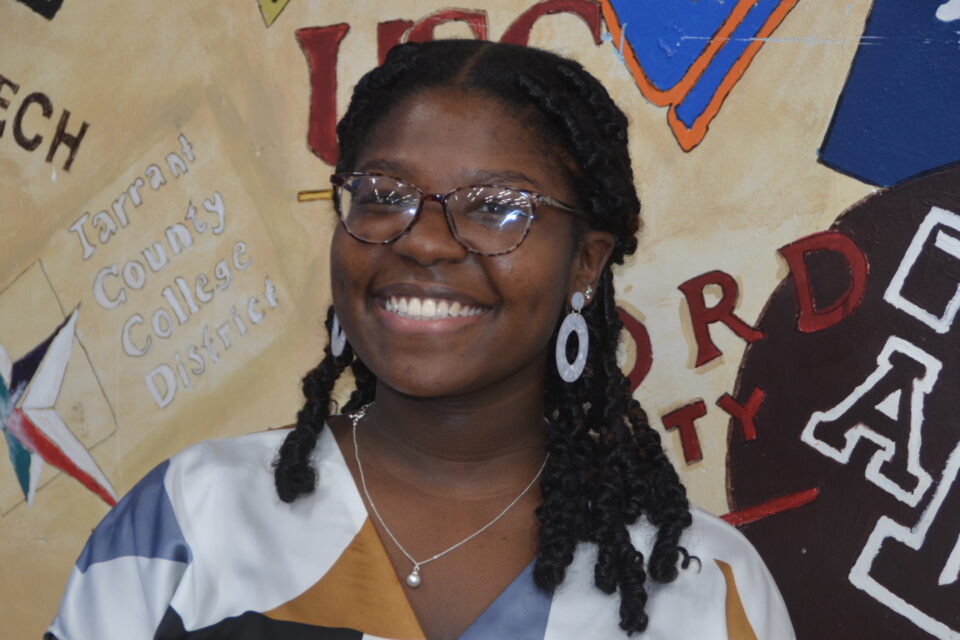 Humble Beginnings
For nearly two months while a fifth-grader at Roquemore Elementary, home for Imani Mogaka was the back seat of a 2010 Kia Spectra. Few knew. She would arrive at school as always – neatly dressed with homework at the ready – having washed up at the nearest gas station or a hospital restroom or whatever was conveniently on the way to the school.
Now a senior at Lamar High School, Mogaka didn't use to speak much about this period in life because she didn't want to be labeled a victim of any kind.
That changed last school year when Mogaka discussed it during her panel interviews as a Richard Greene Scholar candidate and again recently when she was up for the Boys & Girls Club of Tarrant County's Youth of the Year honor.
"That whole era of my life . . . it took some time for me to actually realize what happened," Mogaka said. "For me, I am still working through that internally. I'll think about it and start crying. But what I have realized is how much stronger it made me. To let me know you can persevere through anything."
These days, Mogaka could be considered the poster child of perseverance. She made it through Roquemore and Nichols Junior High as one of the top-performing students. This fall she will represent Lamar as its Richard Greene Scholar as well as its 2021-22 class president.
As for the Boys & Girls Club of Tarrant County's Youth of the Year award, that is now on her rather crowded resume, too.
"She's outstanding," said Melanie Hall, Lamar's AVID coordinator. "She stands out with her smile, her heart to serve others, her compassion for others, and her passion for continuous growth.  She is a mature young lady who chooses to focus on what matters most, and that is her education."
Hall calls Mogaka one of the most determined students she's taught and admires her resilience. 
"She, no doubt, will accomplish whatever her little heart desires," Hall said. 
Daphne Barlow Stigliano, CEO and President of the Boys & Girls Clubs of Greater Tarrant County, said Mogaka, who started attending the Boys & Girls Club as early as the first grade, stood out for a few obvious reasons, like grades, but it was her "high level of caliber and integrity" that put her over the top.
"Imani is an amazing representative of what we hope for young people in our society to be today," Barlow Stigliano said. "Far too often we hear stories of when things go wrong. Imani for me represents a more common story, and that's young people working hard to succeed."
During her homeless stint, the club worked was a godsend because it gave her something to do after school -as well as dinner and snacks.
"The Boys & Girls Club gets you involved in volunteer work so we would go to places like Mission Arlington or just do things around the club like cleaning up the neighborhood," Mogaka said. "That's what really got me interested in helping others as a volunteer."
At Lamar, Mogaka is part academic nerd, part theater geek. She's a member of the National Honor Society, sings in two choirs and performs in theater plays. She ran for class president not because she thought it might wow college recruiters or that she craved recognition but sincerely wanted the voices of her classmates heard.
"We didn't get a chance to have much of a junior year and barely had a sophomore year," she said. "So, I was like, 'I want to do whatever I can do to make our senior year as great in the best possible way.'"
Mogaka's mother Ryn Robinson said that her daughter "Is one of those kids with a heart for people. When I say it like that, I mean that sometimes I am a little concerned because there are times I feel like she gives up too much of herself."
Mogaka said that's easy to do because "so many people have poured into me."
Last year when Mogaka was having difficulty working remotely without a desk at home, a desk miraculously showed up at her doorstep, courtesy her AVID instructor Hall.
"She's amazing," Mogaka said of Hall. "She's always been there to talk to me. She knows my personal life and the struggles I went through."
Then there's Lamar choir director Greg Haugen, another big supporter of Mogaka.
"He is always saying, 'Imani, you have it in you,''' she said. "I always tell him, well, if I have it in me, I just want it to come out, please! I just have so many people who support me at Lamar and want me to prosper and live my best life."
Of course, that support system is headed by her mother, who has been instrumental in keeping her daughter positive, especially during their most difficult times. Recently her supporter-in-chief was behind the wheel during a college road trip that spanned six cities and three states in seven days.
What will the future bring?
No college choice, yet, but Mogaka says wherever she goes, she knows she is ready for whatever awaits her.
"One thing being homeless taught me," Imani said, "is that things are temporary. You are not your situation."