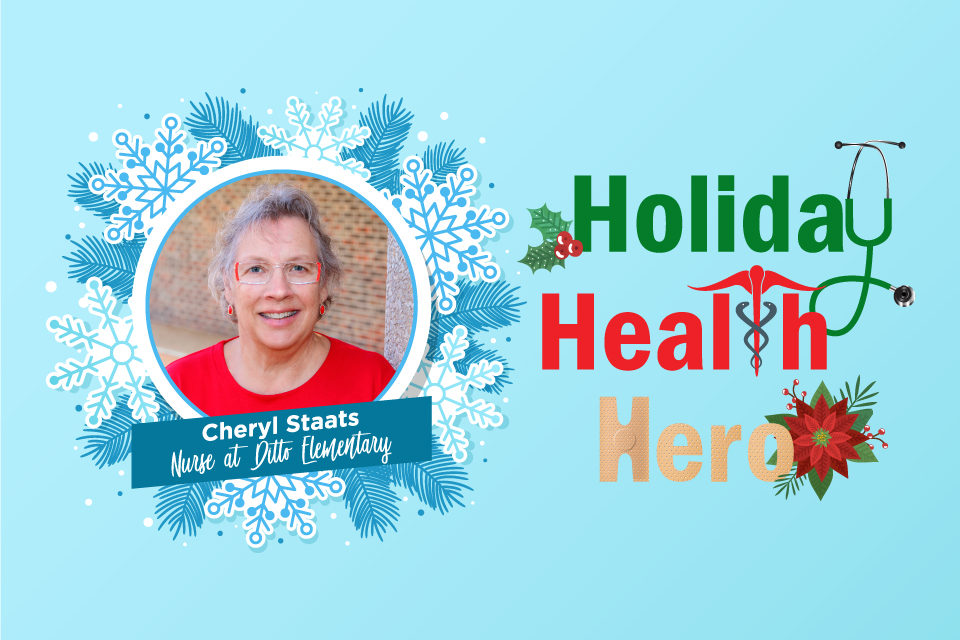 Cheryl Staats has been Ditto's nurse for 21 years
The Arlington ISD wanted to take some time over the winter break to honor a group of employees that has been thrust into the spotlight in 2020 like no other year before, our health workers. So we've decided to celebrate our Holiday Health Heroes by spotlighting several of them. Today we're catching up with Cheryl Staats, who has been the nurse at Ditto Elementary for the last 21 years.
〉What's been the most rewarding part about working through the pandemic?
I appreciate that I have a place at my school to do my job with a staff that means the world to me. I try to give them support any way that I can by keeping them informed, knowing that some are very nervous about the pandemic. I believe that they trust me, and feeling that I can give them support and calm is rewarding. I know that they are on overload. I want to be able to relieve some of their stress.
〉What's been the most challenging part about working through the pandemic?
The most difficult thing was at the beginning when I had no idea what to expect and how to handle a case when it did happen. Everything was new, and the rules were changing almost daily. 
〉What's been the biggest adjustment you've had to make throughout this time?
Due to COVID rules, the clinic is now considered the place for just the sick. Not getting to see the kids for boo-boos or when they just need a hug and some kind of support has been a huge adjustment for me. I miss them!
〉When the stress of the job gets to you, what have you done to cope?
I am not an easily stressed person, but the contact tracing has been very hectic when it happens. I have several nurse friends that are a great support to me. Their validation of how I worked out a situation is a huge help and stress reliever!
〉What have you learned about yourself working though all of this?
I've learned the things that I know as a nurse might not make sense in a COVID situation. And I realize that I am not the only one dealing with that. I have also learned that my checking and re-checking the details might need to be checked again! I catch myself missing some of the big picture because I'm concentrating too much on the smaller things of the COVID rules and reports.   
〉Do you consider what you've done this year as heroic and why or why not?
Absolutely not. I am just doing my job as best I can while going with the flow as it is ever-changing. The real heroes here are the teachers and the custodians.
〉What are you looking forward to most during the winter break?
I hope to be able to spend some time with my family. I also plan to be at the sewing machine and doing some quilting!