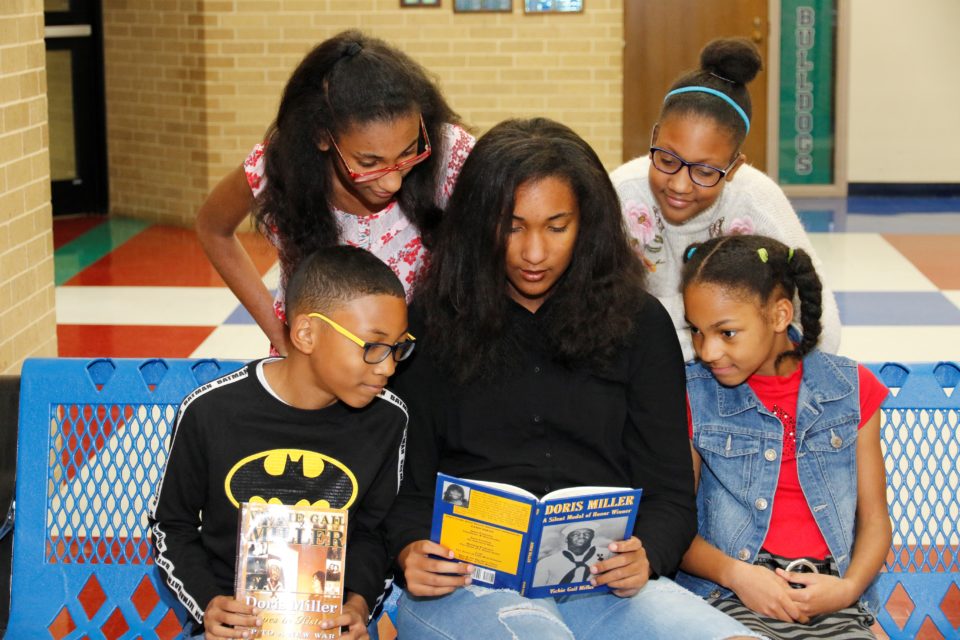 The five Stansberry students in the Arlington ISD are related to a superhero. Their great-great-great uncle is Doris Miller. 
Not the comic-book type either, but a real-life superhero.
Who is Doris Miller? Just Google his name, and you'll understand why the Stansberrys are proud relatives of someone they've never met but heard stories about.
"He inspires me in a way that I feel like I should be able to surpass my limits to make myself a better person," said Zariah, an eighth grader at Boles Junior High.
That sentiment is shared by her siblings Gianna (Martin High School) and Brooklyn, Geoffrey and Trinity (Moore Elementary).
Doris Miller was a World War II Navy hero who saved lives during the Japanese attack at Pearl Harbor when he was collecting laundry before the attack. With his battle station on the USS West Virginia destroyed by torpedo damage, Miller helped injured sailors before manning an anti-aircraft machine gun and shooting down Japanese planes. He then helped more sailors when the call to abandon ship was given.
Miller's heroics earned him the Navy Cross, making him the first black person to ever earn that honor. Miller received several other accolades before he was killed when his ship sank in 1943. Since his death other honors have come Miller's way. The USS Miller was a Navy frigate that was in use from 1973 to 1991. Miller was portrayed by Cuba Gooding Jr. in the blockbuster movie "Pearl Harbor." And last month the Navy announced that an aircraft carrier will be named for Miller, making him the first-ever black sailor to have an aircraft carrier named for him.
There have also been books written about Miller, and there are schools and parks named for the Waco native everywhere from San Diego to San Marcos.
None of those accolades have been lost on the Stansberrys.
"They think it's the coolest thing ever," said LaKisha Stansberry, their mother who is also an AISD product and Sam Houston High School graduate. "I learned about him at a young age. At the time I didn't understand the historical importance of it. I just thought it was pretty neat and went about my business. It wasn't until high school or college that I really grasped the importance of it. It's always been part of my family history."
Vickie Miller, LaKisha's aunt, wrote one of several books about Doris Miller. Several relatives were in Hawaii for the Navy announcement about the aircraft carrier last month while the Stansberry's watched the event at home in Arlington. LaKisha has also taken his children to Waco where there's a statue of their great-great-great uncle.
"It's inspiring," said Gianna, who is a sophomore at Martin. "I've been told about him since I was little, and it's always been great to be a part of it. When I did a research project in sixth or seventh grade, I did a research project about him. I got a pretty good grade on it I think."
That would make sense.